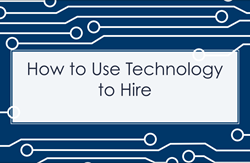 We want to help you improve your hiring process through the use of various tools and technologies. -- Corey Fein, Hireologist
Chicago, Ill (PRWEB) January 07, 2014
Hireology, the leading selection management platform for distributed enterprises, announced today it will hold a webinar titled "How to Use Technology to Hire." With emphasis placed on franchise hiring tools, the webinar will educate attendees on the most beneficial and cost-effective tools available.
Hosted by Hireology's franchise hiring expert, Corey Fein, the webinar will provide an overview of various hiring tools. During the one-hour webinar, Fein will break down the most effective ways to utilize and implement these tools within a franchise location or system.
"With countless hiring tools currently on the market, it can be very difficult to identify which tools are right for your hiring process," said Fein. "We're not here to tell you 'use this, not that'. Rather, we want to help you improve your hiring process through the use of various tools and technologies."
The webinar will be held on January 23rd, 2014 at 2 p.m. CST. To register, please click here.
About Hireology
Hireology is the leading selection management platform for distributed enterprises. Their award-winning Selection Manager™ includes everything an operator needs to manage their hiring process, including a fully hosted career site, integrated job postings, compensation analysis, pre-hire assessments, interview guides, background checks, skills verification and more. Franchise systems, banks and financial institutions, healthcare systems, dealer networks, and other multi-site operators use Hireology's web-based platform to deliver consistent and repeatable hiring decisions in the field - leading to lower turnover and increased profitability per location. For more information, please visit http://www.Hireology.com/.