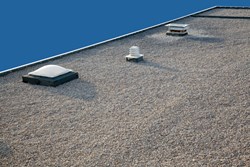 St. Louis, MO (PRWEB) January 08, 2014
Different materials fit different circumstances and when installing a flat roof, it is important to make the correct choice. Rely Roofing brings this conversation to its customers by covering some of the key aspects that are important to consider when choosing a roofing material. With so many different options in the marketplace, it is important for homeowners to know all of the facts about flat roofs as well as the difference between roofing material options and how they are capable of meeting their roofing needs.
There are a few facts about flat roofs to keep in mind when customers decide which roofing option is best for a specific scenario. The cost of a roof varies based on the materials selected. For most homeowners, this is a very important factor in their decision making process. One fact about flat roofs for building owners to keep in mind is that a more expensive material often has a longer lifespan, which means building owners need to factor in their length of stay when deciding on a material to install. The shape of the roof is another piece of information which should be taken into consideration. Roofs with complicated shapes and many intersections cost more than those that have simple designs, such as flat roofs.
The different options available to homeowners have both advantages and disadvantages. Asphalt is one of the most common roofing materials in the United States. They are generally on the lower end of the cost scale and have a long lifespan. One of the few drawbacks to this type of roofing material is how common it is. Asphalt is not the preferred option for home and building owners who want to set their property apart from others.
Metal roofing is a versatile option for most roofing needs. It is available in copper, aluminum, steel, as well as various mixtures. The type of metal used determines the quality and the price, making it customizable for consumers on a budget.
Tiles are one of the more decorative roofing solutions and are a good material for those looking to make a fashion statement with their roofing choice. They are very durable but possibly require additional reinforcement to help manage their weight.
Rely Roofing presents customers with facts about flat roofs and helps customers find the right options to suit specific needs. Helping to increase awareness about the factors involved in finding the right roofing solution helps home and business owners make well informed decisions that make homes look great and feel comfortable for years after installation.
About Rely Roofing:
2013 is the 37th year of business for locally owned and operated Rely Roofing. Richard Ely, Owner of Rely Roofing runs the business with his three sons Michael, Allen and Jonathan. Rely Roofing has a long list of references for residential and commercial clients. Rely Roofing has re-roofed flat and metal roofs starting from single family units to buildings over 500,000 square feet. There is truly no job too large or too small for Rely Roofing. Contact the team today on the website, RelyFlatRoof.com or call 314-968-6600.