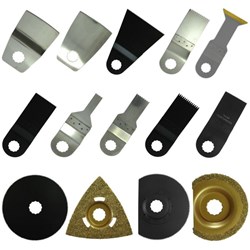 Many of our customers are up in arms... They have perfectly good tools that can't be used because they can't find blades for them anymore.
(PRWEB) January 14, 2014
Oscillating multi-tool blades and accessories wholesaler MultiFitBlades.com is now supporting owners of the original Rockwell® SoniCrafter® with a big solution to a pressing problem – Where to get blades to fit the original Sonicrafter machines?
Recently the makers of the original Rockwell SoniCrafter Tool announced their redesigned 2nd generation X2 Hyperlock SoniCrafter. This new model uses what they call a Universal Fit™ blade anchor system. While this changeover boasts many advantages, this new blade anchor has owners of the original Sonicrafter machines scratching their collective heads because Rockwell has now ceased production of direct fitting blades for their older machines.
Sonicrafter owners looking for help were disappointed to learn that they must now use an adapter to apply the Rockwell Universal Fit blades onto their older machines. Many of those who tried using these adapters frequently complained that "…the blades keep coming loose when using the adapters" or they complained that "…these Universal Fit blades are of no use if those tiny adapters ever get lost."
As a result of this situation, many original Sonicrafter owners reached out to independent tool suppliers such as Multi-Fit Blades to consider their production requests for original style Sonicrafter blades because they "…honestly felt betrayed by this Universal Fit blade changeover." They explained that they've got perfectly good machines but can't find blades that directly fit without an adapter.
In response to these many requests, MultiFitBlades.com stepped in to fill this void with Rockwell SoniCrafter Original Fitting blades and accessories. Multi-Fit Blades' online catalog shows an amazing selection of blades that will fit directly onto older Rockwell SoniCrafter models, plus the Shop Series RCS5100K Sonic Tool.
The reality of this SoniCrafter blade anchor changeover problem is that it's actually a marketing maneuver. Manufacturers of consumer products can re-boost their sales by releasing newer incompatible versions of their popular products and simply discontinue support of the older models, driving customers to their newer models.
Fortunately for original SoniCrafter owners the guys at MultiFitBlades.com are making it easy for them to keep their old machines buzzing with a diverse supply of robust performing blades that fit their machines perfectly.
To learn more about the new Rockwell SoniCrafter compatible blades and accessories or any of MultifitBlades.com's many other oscillating tool blades, please visit: multifitblades.com.
About MultifitBlades.com:
MultifitBlades.com is a direct source Super-Center wholesaler of cutters and other accessories for oscillating multifunction power tools. This company has helped to revolutionize the oscillating tool accessory industry by providing extremely low cost, high quality replacement blades and accessories that are compatible with most leading tool manufacturers.