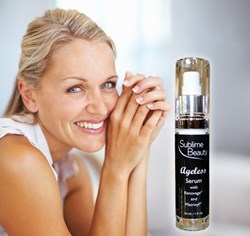 'We're very excited to welcome this Serum to our line of Ageless products at Sublime Beauty,' said Ms. Heshelow. 'Men and women can be beneficiaries of these unique ingredients to look better.'
St. Petersburg, FL (PRWEB) January 07, 2014
Sublime Beauty®, a fine skin care company, recently introduced the newest addition to its family of products.
The Ageless product line was designed to help men and women reduce the signs of aging, and the newest serum is simply called Ageless Serum. The announcement was made by Kathy Heshelow, founder of Sublime Beauty®.
Ageless Serum features two key ingredients that make it unique in the marketplace:
** Renovage® (developed in France) lengthens cell life and strengthens skin cells, boosts collagen and more. Recent clinical tests of Renovage® showed cell resistance to oxidation was up 75% to 100%, skin cell self-defense was up 100% and cell life span was increased with wound healing capacity that exceeds all expectations.
** Matrixyl® a peptide, also developed in France, can double collagen production, essential for youthful skin.
Additionally, Ageless Serum helps skin to become clearer, protected, hydrated and more beautiful. It focuses on reducing the eight main signs of aging by helping smoothing the skin, reducing pore size, reducing age spots and increasing elasticity and skin cell life. Results will be seen in a month with twice daily use, shown in clinical tests.
"We're very excited to welcome this Serum to our line of Ageless products," said Ms. Heshelow. "Women and men can now be the beneficiaries of these unique products as we help them look fresher and more youthful."