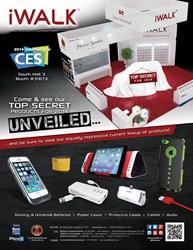 Las Vegas, NV (PRWEB) January 07, 2014
iWALK, designer and manufacturer of superior Apple and smartphone accessories in over 40 countries, showcases their newest lineup of consumer solutions during CES 2014, including the industry's largest selection docking and universal batteries.
Designed to meet the growing consumer demand for portable power, iWALK's entire lineup of portable backup batteries features an ultra-portable design and are equipped with LED power indicator and overcharge protection to ensure safety. Solutions on display during CES include:
Extreme Spartan – The newest addition to the Extreme Series of universal backup batteries, the Spartan is water, dirt, and shock proof and features Dual USB ports to charge 2 devices simultaneously. For those with an active lifestyle, the carabineer ensures 13,000 mAh of power will always be on hand.
Extreme 2800 – This 2800 mAh battery features a Micro USB flex charging arm and standard USB port for simultaneous charging of 2 devices. It's small enough to fit anywhere, and provides up to 11 hours of additional talk time for your smartphone.
Chameleon Easy G4 – High capacity power case for Samsung Galaxy S4 with 3000 mAh of added fuel. Pass-through charging will charge your phone and power case simultaneously. Also features a convenient on/off switch.
Sound Angle and Sound Angle Mini – A giant step outside conventional Bluetooth speaker designs, both the Sound Angle and Sound Angle Mini embrace stylish form factors with joyful colors. The clever design seamlessly incorporates volume and track control buttons as well as a 3.5mm auxiliary input that lets users play music from external sources, including MP3 players, laptop computers, and more. Both speakers are equipped with a speakerphone for making and receiving calls.
Stereo Earphones – Our Amour series of earphone headsets features tangle-free cords, as well as soft molding ear inserts for maximum comfort and noise isolation. In addition, they are equipped with a one-touch multi-function remote that works with Android and Apple devices.
Immortal Protective Cases – The Immortal cases provide a delicate balance of style and function. They feature multiple layers of protection in a slim, stylish design. A raised front edge protects your screen, and the silicone port covers guard against dust and debris. Available in multiple colors.
For more information on iWALK's entire line of portable charging solutions and mobile accessories, visit their website at iwalkusa.com, email info(at)iwalkusa(dot)com, or call them toll free at 1.855.MY.iWALK.
About iWALK
Successfully sold in more than 40 countries, iWALK manufactures and develops innovative products, including docking and universal batteries, power cases, chargers, Bluetooth speakers and keyboards, and stereo headsets. Their U.S. Headquarters was established in 2011 and they launched their brand at CES 2012. For 2 consecutive years, they have received the prestigious iBrand Award, given to only 20 companies worldwide. They were also awarded 'Best Batteries of Show' at CTIA 2013.