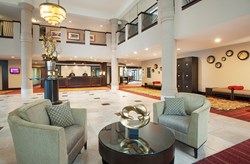 McLean, VA (PRWEB) January 07, 2014
For the past eight years, the Crowne Plaza Tysons Corner hotel has hosted the BeFriend-A- Child Mentoring Program Holiday Party. This outstanding mentoring program, which has won the Virginia Mentoring Partnership, Inc. Award, targets children at risk of mistreatment and those who have suffered neglect or abuse. BeFriend-A-Child, which began in 1978, is a part of the Fairfax County Department of Family Services. The mentors and staff have been recognized with an "Allies in Prevention Award" by Stop Child Abuse Now of Northern Virginia.
Each December since 2006, the hotel has provided banquet space and a luncheon buffet to dozens of mentors and children. As an event venue in McLean, VA, the Crowne Plaza has over 10,000 square feet of space, providing ample room for fun and games. The kids and their volunteer mentors enjoy a "winter wonderland" of arts and crafts, games, dancing, singing, and contests. Santa and Mrs. Claus are also known to stop by for a visit to give out gifts from caring community organizations and individuals.
"As an active member of the northern Virginia community, the greatest gift we can give this time of year is the gift of giving," says Trish Drews, general manager of the Crowne Plaza Tysons Corner. "And for us at the Crowne Plaza Tysons Corner, to have the opportunity to open up our hearts and our hotel for such a giving cause always reminds me of why we're in this business in the first place… to make a difference. We are fortunate to have over 10,000 square feet of combined venue space to be able to host this great event, so it's truly our pleasure."
The BeFriend-A-Child Mentoring Program has proven to be hugely successful. In fact, when surveyed, 85% of parents said that the mentoring reduced child stress, while 78% reported improved communication skills from their child. Mentors are highly dedicated individuals, serving for at least a year in both one-on-one and group events for eight hours per month. Learn more about BeFriend-A-Child and more volunteer opportunities at http://www.fairfaxcounty.gov/dfs.
About WashDCHotels.com
Based in Bethesda, MD, WashDCHotels.com is a DC destination and tourism site for the B. F. Saul Company Hospitality Group, a subset of a larger, private real estate firm, B. F. Saul Company. Within the Hospitality Group the company represents a collection of full service, select service, and extended stay hotels located in MD, VA, MI and FL. WashDChotels.com serves both business and leisure guests seeking first class DC hotel accommodations, Washington, D.C. area meeting facilities, and banquet venues. The company also operates two IACC Certified Northern Virginia Executive Conference & Training Centers. To learn more about the B. F. Saul Company Hospitality Group go to http://www.bfsaulhotels.com.