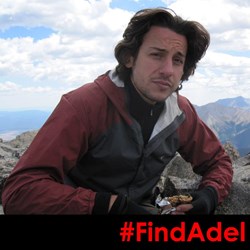 Dubai, United Arab Emirates (PRWEB) January 06, 2014
Help Needed in Humanitarian Effort to Save Missing Diver Adel Ait-Ghezala
At around 4pm GST on January 1, 2014, Adel disappeared while diving with 3 friends and his wife Rana about 20 miles off the coast of Dubai. Despite search efforts by the UAE Coast Guard, Police, private and volunteer organizations, and support from the UAE Government, Adel has yet to be found. It is possible that Adel may have been quickly distanced from the boat by a current or that he found his way to one of the many tiny islands in the area.
Adel is a PhD student and adjunct professor at American University in Washington, DC, where he has lived for over 10 years. He is an experienced competition level free diver. He is in top physical condition with in-depth understanding of open water survival skills. US friends and family of Adel are asked to appeal to the United States Navy and other regional governments for assistance and multi-national search efforts.
Requests & Needed Resources:
1. Expanded multi-national government searches including regional and international governments
2. Advanced search tools and resources including planes, helicopters, boats, and divers
3. Financial donations to help fund private searches
4. Public outreach to spread awareness and to help keep hope alive. Media coverage in both arabic and English media outlets regionally & internationally.
The Facts

Adel's last known coordinates are N 25 24.317 E 054 55.660
Adel was wearing a grey camouflage wetsuit and equipped with fins, a snorkel, a diving watch, a 2kg weight belt and a spear gun
The water depth where Adel went missing is ~20-30m
Who to Contact
For all media and inquiries: helpfindadel(at)gmail(dot)com
To volunteer local support and resources, email helpfindadel(at)gmail(dot)com with the subject "BOAT/VOLUNTEER HELP"
For more information
Up-to-date information, maps, media links and more are publicly available at http://bit.ly/findadelinfo
Join the Facebook Page: http://www.facebook.com/helpAdel
Follow twitter updates: http://www.twitter.com/HelpFindAdel
Tweet to Help Find Adel Campaign with the hashtags #findadel and #helpfindadel
Help Find Adel Campaign
ARABIC RELEASE see attached PDF or contact helpfindadel(at)gmail(dot)com