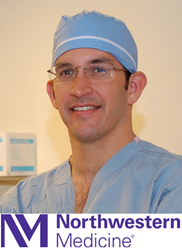 "Dr. Russell saved my life when no other doctor could," shared Darla Greenberg, a former aortic valve replacement surgery patient.
Chicago, IL (PRWEB) January 07, 2014
HeartValveSurgery.com, the largest educational resource and community of patients with heart valve disease, announced today that Dr. Hyde M. Russell has been named its current 'Featured Heart Valve Surgeon'. Dr. Russell practices at Northwestern Medicine in Chicago, Illinois, the #12 ranked Cardiology and Heart Surgery program in the nation by U.S. News & World Report.
"Dr. Russell has helped educate our community about important topics including adult, congenital and pediatric valve disorders," stated Adam Pick, founder of HeartValveSurgery.com. "In addition to filming educational videos, Dr. Russell has performed successful procedures on many patients in our community including Harriet Rasmussen, Cort Stevens, and Darla Greenberg.
At Northwestern, Dr. Russell is the surgical director of the Program for Adult Congenital Heart Disease. He is board certified in general, cardiothoracic and congenital cardiac surgery, allowing Russell to run the gamut on all heart surgery procedures for the adult and pediatric populations. This includes: heart valve repair and replacement; complex operations in adult and pediatric congenital heart surgery; heart transplantation; coronary artery bypass surgery; and transcatheter aortic valve replacement (TAVR) procedures.
Darla Greenberg, a former patient of Dr. Russell recently stated, "Dr. Russell saved my life when no other doctor could. He gave me the extra care and went out of his way to make sure I was going to be okay. My three little boys are extremely touched their mommy is back and feeling good!"
With this announcement, Dr. Russell joins an elite group of surgeons who have received 'Featured Heart Valve Surgeon' status at HeartValveSurgery.com. To celebrate Dr. Russell, the website will highlight his accomplishments across its interactive platform which includes a surgeon finder, a heart valve clinic directory, educational videos, an interactive blog and a social network.
"Together, Northwestern Medicine and HeartValveSurgery.com are developing unique ways to educate patients about heart valve disease and appropriate treatment options," stated Dr. Russell. "I appreciate this work and look forward to continuing this effort."
To see Dr. Russell's feature post at HeartValveSurgery.com, please click here.
About HeartValveSurgery.com
Founded by Adam Pick in 2006, HeartValveSurgery.com has helped millions of patients and their caregivers better understand the potential challenges and opportunities of heart valve surgery from the patient perspective. This website provides over 10,000 pages of complimentary information (educational videos, a surgeon locator, a social network, an interactive blog) to support patients before, during and after heart valve surgery.
For more, please visit http://www.HeartValveSurgery.com.
Contact HeartValveSurgery.com:
Robyn Podell, Director of Communications
robyn (at) heartvalvesurgery (dot) com
(310) 721-0587