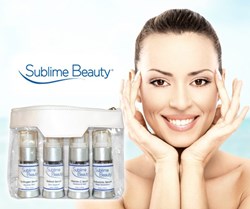 Four great anti-aging serums are now sold together in a quality bag - and they are currnetly on sale. Help fight winter damage now.
St. Petersburg, FL (PRWEB) January 08, 2014
It is a cold reality: winter air, harsh winds, over-exposure of skin and overheated rooms can put skin under stress.
The Sublime Beauty® anti-aging serums can help. Four popular serums are now available together in a quality vinyl bag, perfect for storage or travel.
"We put several of our popular serums (Collagen, Hyaluronic and Retinol) together with a new Vitamin C serum, all important for good skin care," says Kathy Heshelow, founder of Sublime Beauty®. "The serum set is now 32% off."
The popular Collagen Peptide serum with Matrixyl® hydrates skin while boosting collagen levels for healther, firmer skin and is used twice daily. The Retinol serum is a workhorse of antiaging skincare and should only be used at night to help reduce pore size, reduce age spots, slough off older skin and help encourage collagen production and hydration. Hyaluronic serum to plump and cushion skin and the Vitamin C serum is a power anti-oxidant.
"The serums can be used together and with your day or night creams as well," says Heshelow. "Typically apply the collagen serum first, followed by the hyaluronic in the morning and evening. Retinol is used at night only, and Vitamin C either time."
Many dermatologists agree that Retinol should be used as a staple for anti-aging for all that it does for skin. The Sublime Beauty® formula is a non-irritating yet effective 10%.
"We have introduced some specialized anti-aging products, such as our new Ageless line with dermal filler and skin tightener, and have our staple the Face Whisperer® Day cream with Argireline® to relax wrinkles," says Heshelow. "These four serums can really help you skin go to the next level, and fight winter harshness!"
A short music video highlights the serums.
All Sublime Beauty® products are sold on Amazon, with fast shipping and secure checkout. A new Sublime Beauty® Amazon store will be opening soon as well.