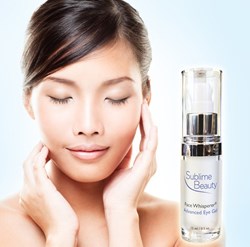 Using this serum twice daily will greatly improve the eye area within a month, diminishing dark circles, puffiness and fine lines.
St. Petersburg, FL (PRWEB) January 09, 2014
The Face Whisperer® Advanced Eye Gel was recently developed and launched with patented ingredients to help diminish dark circles and bags - and help reduce wrinkles, too.
The Sublime Beauty® eye serum includes three key ingredients to make an impact:
** Eyeliss® increases lymphatic function, reduces capillary permeability, boosts elasticity and decreases inflammation.
** Haloxyl® (pronounced ha-LOX-ul) includes anti-inflammatory ingredients to reduce puffiness and ingredients to reduce dark circles by eliminating the pigments in the blood trapped under
the skin that are responsible for the discoloration.
** Matrixyl® is a peptide found in many Sublime Beauty® products. It can double collagen production, and collagen is essential for smooth, youthful skin. We lose collagen each year as we age, so boosting production is key in anti-aging.
"Using this eye serum twice daily will help the eye area to improve, and results are normally seen within a month," says Kathy Heshelow, founder of Sublime Beauty®.
The Advanced Eye Gel joins the popular Face Whisperer® line, which includes the day cream with Argireline® (known as the natural botox) and Trylagen®; the night cream which features Matrixyl, and a neck and decollete cream with Argireline® and rich botanicals for the delicate area.
Further information about the Face Whisperer® line is found on the Sublime Beauty® website. The day and night creams were featured on Consumer NewsWatch TV(History and Ion channels) and NCN recently.
All Sublime Beauty® products are available on Amazon. A new Amazon webstore will be launching soon as well.