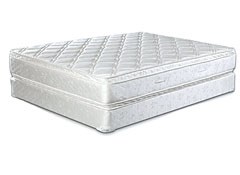 Mattresses that made our winners' list scored at least Good for back and side support. Top models also transferred relatively little movement from side to side among innerspring and, for memory-foam, did not make movement difficult.
Yonkers, NY (PRWEB) January 07, 2014
Sleep Number's Innovation Series i8 Bed Pillowtop was the only mattress that aced Consumer Report's back-support test, which helped it capture the number-one spot in the organizations' latest ratings of 24 innerspring and foam mattresses.
Months of testing with men, women, and machines also confirm that consumers can spend thousands of dollars and get relatively little for their money, or cheap out and get subpar support and quality. Consumer Reports tests use dozens of electronic sensors to precisely measure how well each mattress supports a sleeper's spine by maintaining its natural curve when they are on their back, as well as how well it keeps their spine horizontal when they are on their side.
"Mattresses that made our winners' list scored at least Good for back and side support. Top models also transferred relatively little movement from side to side among innerspring and, for memory-foam, did not make movement difficult," said Bob Markovich, Home Editor for Consumer Reports.
The full tests results and ratings for all 24 models, available at http://www.ConsumerReports.org showed huge differences for spinal support among mattress models.
The top-rated Sleep Number's Innovation Series i8 Bed Pillowtop, which allows consumers to adjust firmness by inflating or deflating an air-filled layer beneath its foam top, earned "Excellent" marks for Back Sleeping, Durability and "Very Good" marks for side-sleeping and ease of movement.
At $3,000, the Sleep Number was on the pricier side of the models tested, but CR's latest tests also found consumers don't have to spend that much to get the support they need. Costco's foam Novaform Serafina, A CR Best Buy at just $800, should keep back sleepers nearly as comfy for a fraction of the price.
For sleepers who still prefer a traditional innerspring mattress, CR's tests found impressive support for both back and side sleeping, which helped put Serta's Perfect Day iSeries Applause at the top of the list. And at just $1,075, the Serta is also a CR Best Buy.
While Duxiana calls its $4,800 Dux101 innerspring the "perfect introduction to the legendary DUX comfort and support, "CR's test suggest otherwise. It got high marks for side support in CR's tests, but back support was only middling. Lots of bounciness could also allow a restless sleeper on one side to wake a sound sleeper on the other. What's more, that lofty price doesn't include the replaceable foam layers that let consumers fine-tune firmness on this model's pricier brandmates.
On the bottom of Consumer Reports' list--a new low for back support: The Ashley Ellis Bay 15" Pillowtop, $1,200 foam, which earned the first and only Poor in this test and ranks lowest overall.
Consumer Reports tests also found that sometimes cheaper means cheap. Roughly 11 percent of Consumer Reports subscribers the organization surveyed were sorry they hadn't spent more on their mattress. Two low-buck models support that lament. Ikea's innerspring Sultan Holmsta costs just $550 but proved mediocre for side support and subpar for back sleeping. And while the foam Spa Sensations SPA-1000Q may seem like a steal at only $360, this Walmart model scored lowest in Consumer Reports' durability tests, which use an 308-pound roller to mimic the eight to ten years of use common for mattresses.
Some foam mattresses were so soft that sleepers can sink in, feel engulfed, and find it hard to change positions—something sleepers typically do several times during the night. That held true for four models CR tested, including the relatively pricey Beautyrest ComforPedic Loft Crestwood Luxury Plush and Sealy Posturepedic Optimum Inspiration.
Any mattress that shows sags or lumps belongs by the curbside. As CR's test-performance Ratings detail, many of the best mattresses fall within the roughly $800 to $1,200 most people spend. Here are some other tips to consider as you shop:

Don't buy into firmness claims. About half of these mattresses proved softer than advertised in CR's tests. And a firmer mattress isn't necessarily better for your back. Instead, use CR's scores for back and side support as a guide. Then try any mattress you're considering by lying on it for at least 10 minutes on each side, your back, and your stomach if that's how you sleep. More than 80 percent of subscribers who did so said they were still satisfied later.
Don't buy solely by brand. Nearly 13,000 subscribers in a separate survey found the Tempur-Pedic, Ikea, Original Mattress Factory, Novaform, and Sleep Number brands most comfortable, the Sealy, Serta, Simmons, and Stearns & Foster brands less so. But as CR's test Ratings show, different models within the same brands can perform very differently. And while Sleep Number's $3,000 Innovation Series i8 topped CR's tests, the organization's research shows that the brand's Classic C2—a $699 "limited-time introductory model price" Sleep Number advertised as Consumer Reports went to press—differs notably in construction, with a much thinner foam layer.
Shop during the holidays, and haggle. Huge markups and profit margins often let retailers lower prices by 50 percent or more, especially during major holidays. That also leaves plenty of room for haggling all year-round: Roughly one third of our survey respondents slashed $185 or more off the price by doing just that.
The complete ratings of all 24 mattresses, including models from Serta, Beautyrest, Sealy, Tempur-Pedic, Chalres P. Rodgers, Stearns & Fosters, Ikea, Ashley Sleep and other popular brands, are available http://www.ConsumerReports.org, starting January 7th, 2014.
Consumer Reports is the world's largest independent product-testing organization. Using its more than 50 labs, auto test center, and survey research center, the nonprofit rates thousands of products and services annually. Founded in 1936, Consumer Reports has over 8 million subscribers to its magazine, website and other publications. Its advocacy division, Consumers Union, works for health reform, product safety, financial reform, and other consumer issues in Washington, D.C., the states, and in the marketplace.
January 2014
© 2013 Consumer Reports. The material above is intended for legitimate news entities only; it may not be used for advertising or promotional purposes. Consumer Reports® is an expert, independent nonprofit organization whose mission is to work for a fair, just, and safe marketplace for all consumers and to empower consumers to protect themselves. We accept no advertising and pay for all the products we test. We are not beholden to any commercial interest. Our income is derived from the sale of Consumer Reports®, ConsumerReports.org® and our other publications and information products, services, fees, and noncommercial contributions and grants. Our Ratings and reports are intended solely for the use of our readers. Neither the Ratings nor the reports may be used in advertising or for any other commercial purpose without our permission. Consumer Reports will take all steps open to it to prevent commercial use of its materials, its name, or the name of Consumer Reports®.