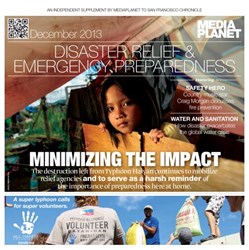 Effective relief requires collaboration between aid agencies, and needs to begin long before disaster strikes and continue well after the media spotlight fades. - Helene Gayle, President & CEO of CARE USA
San Francisco, California (PRWEB) January 08, 2014
On December 18, 2013, Mediaplanet announced the distribution of "Disaster Relief and Emergency Preparedness," a cross-platform campaign distributed as an 8-page print publication within The San Francisco Chronicle, and digitally across a network of online platforms in order to reach over 2 million readers.
"Disaster Relief and Emergency Preparedness" aims to raise public awareness about the devastation caused by disasters in both developing communities and the United States, and to encourage readers to participate in relief efforts. Further, it creates a call to action surrounding the importance of implementing safety measures at home. It succeeds in uniting the organizations and companies working at the forefront of disaster relief and emergency preparedness efforts, including CARE, the World Bank, UNICEF, the National Safety Council, National Fire Protection Agency (NFPA), and many more.
Disaster can strike at any moment, at home or abroad. While preparation is vital, relief responses are integral in the aftermath. "Effective relief requires collaboration between aid agencies, and needs to begin long before disaster strikes and continue well after the media spotlight fades," states Helene Gayle, President & CEO of CARE USA, within the campaign foreword. "Since we cannot prevent natural disasters, we should prepare for the unexpected," suggests John Ulczycki, Vice President of Strategic Initiatives at the National Safety Council.
By targeting an influential audience both within the San Francisco Bay Area and across the country, the campaign aims to inspire readers to take action, covering key topics such as:

Typhoon Haiyan
Building Resilience to Disaster
Syria: The Greatest Humanitarian Crisis of the Century
Water and Sanitation: Safeguarding Against Secondary Disasters
Animal Evacuation
Fire Safety
Home Security and Understanding Burglary
Key partners of the campaign include CARE, WaterAid, Project Concern International, Salesian Missions, All Hands Volunteers, Hilton Humanitarian Awards, Global Impact, Episcopal Relief, ShelterBox USA, Mercy USA, Kidde, American Veterinary Medical Foundation, SF 72, Protect America
About Mediaplanet
Mediaplanet is the leading independent publisher of content-marketing awareness campaigns covering a variety of topics and industries. We turn consumer interest into action by providing readers with motivational editorial, pairing it with relevant advertisers, and distributing it within top newspapers and online platforms around the world.
For more information about "Disaster Relief and Emergency Preparedness" or Mediaplanet San Francisco, please contact:
Janel Gallucci, Managing Director
Mediaplanet San Francisco
415 697 1229
janel.gallucci(at)mediaplanet(dot)com