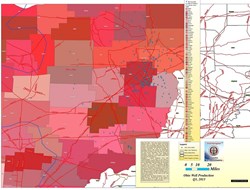 New York, NY (PRWEB) January 07, 2014
The latest well production data released by the Ohio Department of Natural Resources, Division of Oil and Gas shows 245 producing wells in the Utica Shale Play in Q3, 2013. According to the data, Gulfport's Harrison County well is the top oil producer while Belmont County has the top 5 natural gas producing wells, also Gulfport wells.
Chesapeake Energy's 162 wells showing production made it the driller with most wells in the region, while Carroll County's 138 producing wells makes it the most active producing County. Wells by Antero and Rex Energy joined Gulfport and Chesapeake as top 5 oil producing well owners in the 3 month reporting period.
As a service to it's Subscribers, ShaleNavigator® has developed a Ohio production map showing the oil and gas hots spots revealed in the Q3 production report as well as pipeline infrastructure. ShaleNavigator has has also added a free well lookup map tool that allows site visitors to conduct quick lookups based on well name, well operator, or County.
About ShaleNavigator
ShaleNavigator is an online, interactive mapping system with natural gas wells, well permits, pipelines, and leasing layers. Subscribers can view recent lease offers and create an save their own maps. Data is updated regularly and includes recent lease offers, hundreds of newly issued well permits in the three state Marcellus & Utica Shale plays, natural gas pipelines in the Marcellus, Utica, and EagleFord, and listings of 100+ Available Properties comprising 22,000+ acres.
Accessing ShaleNavigator
A free 7 day account is available. To access the drawing and saving map tools and to have access to high value layers, subscriptions are available for as little as $319/year. Enterprise multi-user discounts are available.