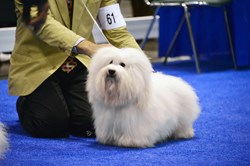 Morgantown, WV (PRWEB) January 09, 2014
This week the American Kennel Club-Foundation Stock Service posted its newest titleholders on its Facebook Page. Hopecrest's Monkey Business aka "Monkey", a Coton de Tulear dog, is the #1 all breed dog in the Miscellaneous classes for 2013, earning his "CM 10" making him the highest level of titleholder in the "Certificate of Merit" rankings with AKC.
The Coton de Tulear (a small, sturdy breed originating on the island of Madagascar) entered the Miscellaneous classes in AKC in June of 2012. Competitors in conformation in the Miscellaneous classes compete on a similar points schedule to regular AKC breeds to earn a "Certificate of Merit" title. This gives judges an opportunity to learn new breeds as they enter into the AKC before they enter "regular" classes and compete against established mainstream breeds. In order to inspire exhibitors to keep their top dogs out in completion and allow judges the opportunity to see as many representatives of each breed as possible, the AKC Board of Directors recently made the decision to add "levels" to the Certificate of Merit title. Each title level consists of 15 points earned in different increments based on the number of dogs in competition at each individual show. The breeds currently exhibiting in the Miscellaneous classes are the: Azawakh, Belgian Laekenois, Bergamasco, Berger Picard, Boerboel, Cirneco dell'Etna, Coton de Tulear, Dogo Argentino, Lagotto Romagnolo, Miniature American Shepherd, Peruvian Inca Orchid, Pumi, Sloughi, Spanish Water Dog and the Wirehaired Vizsla.
Monkey almost didn't make it to the show ring. At only 4 months old, after attending a UKC show where his mother was in competition, Monkey woke up projectile vomiting with uncontrollable diarrhea. No one could identify the cause. He was immediately hospitalized and samples sent to Cornell University showed a rare strain of the Parvo virus that was not included in his routine vaccinations. Monkey spent a week in the veterinary hospital fighting for his life. As part of his treatment Monkey's legs were shaved for IV's and his rear was completely shaved. All of his housemates were placed on voluntary quarantine for the next month. There were questions of whether or not he would recover, if he would ever sire puppies and how his illness would affect the further development of his bones and muscles, but Monkey would not be stopped from his destiny!
Despite his still "non-regulation" coat, Monkey began his show career in the ring last year at the World Dog Show in Salzburg, Austria where he was rated "Excellent" and went on to the Austrian circuit show where he won "Best Junior Puppy". As he has matured, Monkey has racked up a very impressive resume. Between June and December of 2012 Monkey took a whopping twenty-four "Best In Miscellaneous Show" wins and finished off the year as the first Coton in history to compete in and win his breed at the Eukanuba National Championship. In 2013, Monkey has continued to break records by winning more "Best in Miscellaneous Show" awards than any other dog competing in Miscellaneous this year. The announcement of Monkey's "CM10" title makes him officially the top conformation titled dog in the history of the AKC-FSS program.
The Coton de Tulear will enter regular classes with the AKC in July 2014, where he will compete in the "Non-Sporting" group. Hopecrest knows that Monkey will hit the floor running and continue to be the trail-blazing breed ambassador he has been from the beginning.
Monkey was bred by Adrianne Dering of Hopecrest Cotons in Morgantown, WV and splits his time between the Dering home and the home of his handler and best buddy Harry Bennett in Jacksonville, FL.
For more information about Monkey, please contact Adrianne Dering at (770) 241-0489