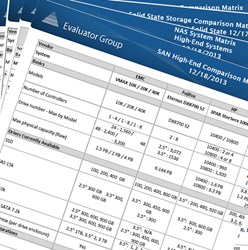 In the next 6 months we expect to see vendors make additional major announcements around advanced storage functionality.
Boulder, CO (PRWEB) January 07, 2014
In the constantly changing and rapidly innovating market of data storage, it's extremely difficult for IT professionals to keep up with the latest products and cutting-edge features. It can take months to research vendor offerings, and often times the only research that users can find is published by the vendor and may therefore be biased or oriented towards positive features while glossing over negatives.
Product Comparison Matrices are spreadsheet style documents that offer side-by-side assessment of product features and functionality; they are published exclusively by Evaluator Group, an independent IT analyst firm. These documents empower decision making with data that has been validated and clarified, thus reducing risk, saving time, and helping users to accurately judge what solution is best suited for their unique environment. The matrices are updated regularly with product announcements, but once a year they are given a thorough overhaul, with Senior Analysts working to ensure the accuracy of all numbers and statistics.
"Reflecting on the last 6 months, we have observed rapid changes in many categories, especially in solid state storage arrays, as vendors release new capacity levels and models," said Camberley Bates, Managing Director Evaluator Group. "This reflects the rapid advancement in the latest flash technology devices and vendors introducing the latest technology for continued economic gain. In the next 6 months we expect to see vendors make additional major announcements around advanced storage functionality."
The year-end updates have been completed on the following Product Comparison Matrices:

Solid State Storage
NAS
SAN High End, Midrange and Entry Level
Storage Virtualization Solutions
Object Storage
Archive System
Archive Software
Disk to Disk, VTL, Deduplication
The matrices may be purchased individually or are available to premium subscribers. Subscriptions for IT end users begin at $2,750. For more information including product coverage click here or contact jane(at)evaluatorgroup(dot)com.
About Evaluator Group
Evaluator Group is an IT analyst firm dedicated to delivering unbiased in-depth information on storage architectures, products, and management strategies. Evaluator Group's mission is to provide the industry with unbiased research to help subscribers sort through all of the information they are bombarded with every day.