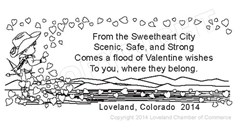 From the Sweetheart CityScenic, Safe and StrongComes a flood of Valentine wishesTo you, where they belong.
Loveland, CO (PRWEB) January 07, 2014
It is hard to believe that Loveland, Colo. was among the communities affected by the September 2013 Colorado flooding, especially as Valentine's Day approaches. The community showcases a resilient spirit, determined to send floods of love around the world this February through its Valentine Re-Mailing Program, the largest program of its kind. Loveland, also known as the nation's Sweetheart City, unveiled its 2014 official valentine cachet stamp and verse with an inspiring message that will be sent around the world:
From the Sweetheart City
Scenic, Safe and Strong
Comes a flood of Valentine wishes
To you, where they belong.
The 2014 cachet has a very special meaning to Loveland and to its counterparts across Colorado affected by the September floods. It also embraces the hope and love that Loveland's community, people and the Valentine Re-Mailing Program continue to bring to thousands around the world. The 2014 cachet was designed by Corry McDowell and the verse is by Dale Littlefield.
"We are recovering from a difficult year and know that many other communities are as well. Loveland is strong and our commitment to spreading love around our community, our state, our nation and the world is stronger than ever," said Mindy McCloughan, president of the Loveland Chamber of Commerce. "Our hope in 2014 is to continue to spread floods of valentine wishes and love to those who need it most. One sentimental note can make a difference in the lives of our children, our families, our neighbors and even those we have never met."
Since 1947, the chamber, the Loveland post office and 60 volunteer stampers have been bringing love, hope and sentiments to people in all 50 states and more than 110 countries with a special cachet stamp and message through the program. More than 160,000 valentines get mailed each year from mothers to sons, grandfathers to granddaughters and everyone in between. Famous athletes, celebrities and even the president often get valentines stamped with Loveland's special message. Some of the most heartfelt valentines that have come through Loveland are the ones sending messages of hope and love to our troops overseas, to children battling life-threatening illnesses and to those who are overcoming tragedy and need an extra note of encouragement.
To send a valentine to a loved one, pre-address and pre-stamp all valentines, enclose them in a larger first class envelope and mail to:
Postmaster - Attention Valentines
446 E. 29th St.
Loveland, CO 80538-9998
Once received, valentines will be removed from the larger envelope, stamped with the special Loveland cachet stamp and postmark then re-mailed to its intended recipient. See a step-by-step tutorial.
All foreign mail must be received in Loveland by Feb. 4, all U.S. mail must be received by Feb. 7, and all Colorado mail must be received by Feb. 10 to ensure delivery by Valentine's Day. Colorado residents can drop off their valentines at any local King Soopers or City Market stores. The last day for drop off through King Soopers is Feb. 8.
The Loveland Chamber of Commerce also produces an annual Valentine's Day card from the works of local artists. The 2014 card was designed by Loveland resident John Metcalf. Metcalf's inspiration for the card was Loveland's art community, its heart program and the sentiment of love that goes along with the holiday. The valentine verse, written by Dixie Daly, is:
As I dream of what love should be,
Sentiments from The Sweetheart City are what I see.
With so much love in the air
Comes this message of love to share.
May your wishes & dreams come true
As I celebrate this Valentine's Day with you!
Valentine cards can be purchased online at http://www.loveland.org, at the Loveland Chamber of Commerce, Loveland Visitors Center and other local retailers such as King Soopers, Safeway, Wal-Mart and Walgreens for $3.50. For a more complete list of retailers, please visit the website.
For additional details about the chamber's valentine program, visit http://www.loveland.org/ValentineProgram/ or call (970) 667-6311. The program is sponsored by McKee Medical Center.
About the Loveland Chamber of Commerce
Founded in 1902, the Loveland Chamber of Commerce is northern Colorado's "driving force for business." Comprised of more than 750 local companies, the chamber offers a vast array of educational and networking programs to help its investors, both large and small, gain the skills and resources necessary to thrive and prosper in today's economy.