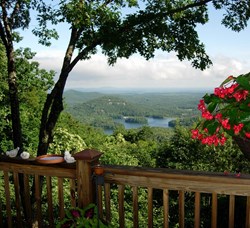 Master-Planned Community of the Year
Atlanta, GA (PRWEB) January 07, 2014
Big Canoe has won a Silver Award for Master-Planned Community of the Year at The Nationals presented by the National Association of Home Builders (NAHB) Sales and Marketing Council, an industry leader in annual home building awards across America. The Gold Award winner will be named on Feb. 4, 2014 during a black-tie gala at the Wynn Hotel during the International Builders Show (IBS) in Las Vegas. The gold award will be chosen from the five Silver Award Winners including Big Canoe. Joining Big Canoe are finalists from California, Colorado, Texas and Virginia.
The Nationals, in its 33rd year, salutes and honors "the best in the building industry for their determination, integrity, creativity and endurance." This is the largest competition in the nation for new-home sales and marketing professionals and communities.
Big Canoe has been on a roll winning prestigious awards over the past decade. In 2011, the Greater Atlanta Home Builders Association named it Community of the Year, its top prize. In 2012, the same organization awarded the community with Best Amenity Package/500+ Units.
Big Canoe is an 8,500-acre mountain community located an hour north of Atlanta. Homes are speckled throughout the mountainsides, harmoniously integrated into Big Canoe's natural beauty. The gated community features 2,000 acres of preserved green space in a park-like setting, including 22 miles of trails, and offers a variety of housing, both new and resales, ranging in price from $200,000 to more than $3 million. Big Canoe is also celebrated for its myriad amenities and recreational opportunities including a championship golf course, three fresh water lakes, tennis, a state of the art fitness center and more...
About Real Estate Scorecard:
Real Estate Scorecard writes unbiased real estate reviews providing in-depth information about popular gated communities in Florida, Georgia, North Carolina, South Carolina and Tennessee, all in an effort to help people discover where to retire in the Southeast.
Website: http://realestatescorecard.com