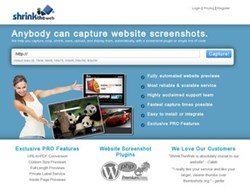 These new updates were just another step taken by ShrinkTheWeb to make the automation of web page screenshots more intuitive.
Atlanta, GA (PRWEB) January 08, 2014
Automated web page screenshot provider, ShrinkTheWeb, spices up its website and user portal to make navigating the site even easier and to make it a bit more visually appealing. After gathering feedback from its many users, ShrinkTheWeb's developers completed the transformation in just a few days with no customer downtime.
Duane Roumel, in Customer Satisfaction, writes, "While our previous site design worked well, we decided it was time to retire it in exchange for a more modern look and feel. Having a website that allows our users to quickly find what they are looking for was the driving force behind our new design. We put a lot of thought into the new layout and have received very favorable reviews from our existing customers."
Website design can be a tricky undertaking and getting it right can be the difference between a happy customer base or an frustrated mob. It is safe to say that ShrinkTheWeb got it right. Not leaving anything to chance, ShrinkTheWeb contracted the aid of user interface specialists, via Elance, to ensure the site flowed as it should from enrollment to everyday use. ShrinkTheWeb invested heavily in this new design and completed numerous projects with freelancers to help streamline the site and navigability.
One major leap forward was the re-launch of the website screenshots plugin page. Now, it is a collection of badge icons that may be filtered with a click. This change makes it much easier to find the right plugin or integration to fit with many popular CMS (content management systems) and programming languages.
These new updates were just another step taken by ShrinkTheWeb to make the automation of web page screenshots more intuitive. Becoming a premium SaaS (Software as a Service), by providing website screenshots of the highest quality and offering unique PRO Features, is the company's core mission. Investing in the redesign of their website falls in line with this mission and solidifies their intention to continue being the industry leader and pioneer.
About ShrinkTheWeb™
ShrinkTheWeb offers a service to fully automate the capture and delivery of web page screenshots. The company was founded in 2009 and has been a driving force in the emerging automated website screenshot marketplace. ShrinkTheWeb has always held fast to the idea that website screenshots will eventually become a staple of the Internet. They will become a commonplace replacement or enhancement to simply showing a link. They are the natural evolution to linking and referencing on the web.
For more information, please visit http://learn.shrinktheweb.com.