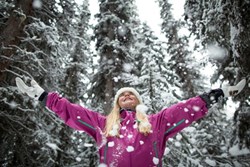 (PRWEB) January 06, 2014
Banff National Park's annual celebration of winter, SnowDays, returns to the legendary mountain playground January 10 – February 9 with its most robust schedule of activities, events and performances ever.
Banff and Lake Louise's third annual SnowDays festival will kick off in grand style with an opening weekend featuring The Molson Canadian Olympic Team Block Party Presented by Hilton HHonors™, the TSN Traveler's All-Star Curling Game Presented by Pinty's, the SkiBig3 Slide & Ride, and the inaugural Big Bear ski & snowboard exhibition.
The month-long celebration begins with an almighty growl on Friday, January 10 when street party meets terrain park on Banff's Bear Street. The Big Bear will feature freestyle skiers & snowboarders showcasing their skills on custom-designed ramps and rails from 6-9 p.m. to the adrenalin-pumping sounds of Adam Doubleyou, the Red Bull Thre3style Canadian Champion. Tickets to the event, which also provide free access to the after-party at Aurora Nightclub, are $10 each and can be purchased in advance at the Banff Ski Hub or online via BanffLakeLouise.com.
On Saturday January 11, Canada will bid farewell and good luck to the nation's Sochi 2014 Olympic athletes with the Molson Canadian Olympic Team Block Party hosted by CBC's George Stroumboulopoulos and featuring a concert by Juno Award-winning artists The Sheepdogs and The Arkells on the 200 block of Banff Avenue. The send-off celebration is free to all visitors and will take place from 2 – 5:30 p.m.
SnowDays' opening weekend will also see TSN's signature curling event, the Travelers All-Star Curling Skins Game, take place at The Fenlands Banff Recreation Centre January 11 – 12, where a roster of world-class curlers will compete for $100,000 in prize money.
Visitors to the park who've never enjoyed the thrill of skiing or snowboarding will also be given the opportunity to test their mettle on the SkiBig3 Slide & Ride mini slope in downtown Banff throughout the first two weekends of SnowDays.
The ever-popular Ice Magic Festival returns to Lake Louise over two weekends to celebrate its 20th Anniversary under the theme 'Freeze Olympic Fever'. The Fairmont Chateau Lake Louise will host 20 internationally-renowned ice carvers January 17 – 19 as they scramble to sculpt giant blocks of ice into works of art in just 34 hours. The following weekend, January 25 – 26, the young and young-at-heart will be welcomed again in Lake Louise for the Little Chippers Weekend featuring family-friendly activities throughout the village and in the historic hotel.
The final weeks of SnowDays will include the MEC Ice Climbing Festival at Banff Avenue Square's colossal 40-foot ice wall January 31 – February 2, followed by the Alberta Winter Games February 6 – 9. The town of Banff will cap off festivities with a classic three-on-three ball hockey tournament, Take It To The Street, February 8 – 9. Teams wishing to partake in the fun shinny tournament can register at BanffLakeLouise.com.
The SnowDays festival was developed in partnership with Parks Canada, the Town of Banff, Banff Heritage Tourism, Banff Lake Louise Tourism and numerous community businesses in Banff and Lake Louise.
For additional information regarding the abundance of other activities taking place during SnowDays in Banff National Park, please visit http://www.BanffLakeLouise.com/SnowDays.
About Banff Lake Louise Tourism - Banff Lake Louise Tourism is a destination marketing organization for the Town of Banff, Community of Lake Louise and Banff National Park. Supporting over 800 businesses, our mission is to engage visitors in unrivalled, remarkable experiences with our membership. http://www.banfflakelouise.com
About Parks Canada - Parks Canada manages a Canada-wide family of 44 national parks, 4 national marine conservation areas and 167 national historic sites on behalf of Canadians. Parks Canada offers Canadians a myriad of opportunities to discover, enjoy and learn about Canada's natural wonders and about the places, persons and events that left their mark on our country's landscape, architecture, culture, economy, population and lifestyle. http://www.pc.gc.ca/banff
About Banff Heritage Tourism - The purpose of the Heritage Tourism Strategy is to preserve and celebrate Banff's unique mountain culture and environment. By connecting with tourists, businesses and locals, BHT can continue to advance important heritage tourism elements and make a tangible difference to the visitor experience in BNP. http://www.banfflakelouise.com/banff-heritage-tourism
For images, please visit our online gallery at http://photos.banfflakelouise.com/.