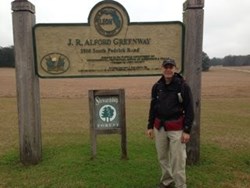 Tallahassee, FL (PRWEB) January 06, 2014
Trail & Ski is sponsoring a "Take a Hike Tallahassee Challenge" this month.
The goal is to encourage Tallahassee residents to keep their New Year's fitness resolutions by adventuring through their own local trails and parks. Trail & Ski owner JC Gayhartt will hike four local trails and share his experience via Trail & Ski's social media pages (Twitter: @TrailandSki, Facebook: https://www.facebook.com/trailandski). Anyone who wishes to take a hike and submit a photo of their outdoor adventure will be entered to win a drawing for a Redstart daypack. The drawing for the prize will be held on Friday, Jan. 31, and the winner will be notified via social media.
"Tallahassee residents have many beautiful paths and trails available to them year round," said Gayhartt when asked about the challenge's inspiration. "We want to see everyone meeting their fitness goals and enjoying the beautiful community we call home."
Trail & Ski is located at 2743 Capital Circle NE in Tallahassee, Fla. Store hours are from 10 a.m. to 7 p.m. Monday through Friday, 10 a.m. to 6 p.m. Saturday and noon to 5 p.m. Sunday. For more information, please call 850-531-9001.
About the company: Trail & Ski has been Tallahassee's premier outdoor shop for more than 30 years. Trail & Ski's staff is friendly and knowledgeable. They are outdoor enthusiasts who spend time in the great outdoors. Trail & Ski's staff assesses their customers' needs and finds the right products to make their outdoor adventure a success. Their goal is to continue to meet and exceed customer expectations. Whether the trip is a weekend hike or a week-long ski trip, Trail & Ski will outfit their customers correctly.
Join the Trail & Ski E-Club to receive priority notice regarding special events, promotions and e-only offers from Trail & Ski. For more information, visit their website at http://www.trailandski.com. Visit them at their Capital Circle location in the Esposito's Garden Center.