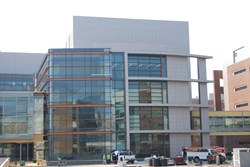 Silver Spring, MD (PRWEB) January 09, 2014
The construction of three buildings spanning 130 acres is quickly approaching completion on the FDA campus in Silver Spring, MD. The land was acquired by FDA when the Naval Surface Warfare Center was closed, so the Navy gave 660 acres of White Oak to GSA, then Congress authorized GSA to have FDA on the site. By having FDA on the White Oak campus, it will save $2.5 million a year in leasing costs, it will be more efficient because the labs and offices can be shared, employees and visitors will have less travel time between offices because they will all be in the same location.
Even with the government sequester, the Food and Drug Administration was authorized a boost in their finances from $21.3 million to $61.7 million for the 2013 fiscal year that ended September 30th. This money was spent to finish construction for the three buildings. The first building is a 125,000 gross-square-foot laboratory for the FDA Center for Drug Evaluation and Research. The second building, is a 500,000 gross-square-foot office building for the Drug Evaluation Center. Finally, the third building, includes labs and offices for the Center for Devices and Radiological Health, the Center for Biological Evaluation and Research, and offices for the Office of the Commissioner and Office of Regulatory Affairs. These three offices will be able to hold 8,889 employees. In the future, more offices and labs will be built to house 6,200 employees.
Clark Construction, called on Mid-Atlantic Construction Supply (MCS), the metal panel division of TSI Corporations to fabricate and install the large composite metal panel and framed perforated awning panels on the project. MCS scope of work comprises over 200,000 square feet of aluminum composite metal panel (ACM) in total, which equates to over 10,000 specifically fabricated individual ACM panels by MCS, another 1,200 framed perforated awning panels that were assembled and installed by MCS, and over 102,000 square feet of insulation installed by MCS. Just as a comparison, this is the equivalent of 4 football fields of fabricated metal panels, and another 2 football fields of insulation installed. This was the largest project to date for MCS, and a true centerpiece in the MCS portfolio. Working closely with Clark Construction, setting milestone dates, and coordinating with other trades was vital for successful completion of this project. The efforts by all parties including, Clark Construction Group, MCS, and Precision Panel Erectors are sincerely appreciated and the final product speaks for itself. Pictures will be posted on the website upon completion of the FDA Project.
For more information on the project, please visit: http://www.m-acs.com
ABOUT MID-ATLANTIC CONSTRUCTION SUPPLY (MCS)
Founded in 2000 on the principles of providing customer service and high quality products, MCS will meet the needs of the demanding architectural metal panel systems market with accurate communication, creativity, an adherence to schedule and high quality products. Out commitment to safety, quality control, manufacturing technology, and an experienced team of Project Managers and Engineers allows us to be a reliable contractor for our clients that consistently delivers a high quality metal panel system.
MCS is one of the largest fabricators and painters of architectural metal panels. MCS specializes in Aluminum Composite Panels (Alucobond, Reynobond, Alpolic), Aluminum Plate Panels (0.080 - 0/125), Architectural Painting, Fabricated Break Metal, and Fabrication Services for steel and aluminum curtain wall systems.