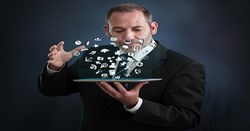 Taking even just 5 minutes each day to focus on developing yourself in any of the three areas will change your perspective and give you a more organized approach to reaching your goals. Using this app is a great to way to build this positive habit.
Windsor, Ontario (PRWEB) January 14, 2014
Available today, the app "Solution Linx Online Coaching" will help people discover their true potential and identify new, positive ways to move forward. Our coaching app will take users through the steps to realize their life goals and create a unique personal vision. Through self-coaching, they will develop personally, professionally and physically.
The Solution Linx Online Coaching App will provide daily coaching, support and motivation. Choose from three types of coaching: Professional Success, Personal Growth and Health & Wellness. Progress through a unique goal setting process to create important and meaningful goals. Learn creative ways to tackle goals and overcome road blocks.
Our app will help people exceed their own expectations, and become someone they are proud to be!
The Solution Linx Online Coaching App is now available for $4.99 or download a free trial today (offer valid for limited time only). The app will be developed in many different languages, and will have a worldwide reach – stay tuned.