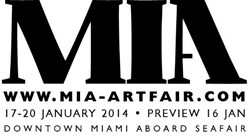 'SeaFair is a beautiful location, the service is great, and it allows galleries to present their work in a very refined environment, so for me that's very important, it shows off the art the way it should be,' remarked Paco, Butter Gallery.
Miami, FL (PRWEB) January 07, 2014
On display will be over 28 international dealers in which the Fair will bring together emerging artists to downtown Miami January 17-20, 2014. This IFAE (International Fine Art Expositions) event will be hosted on the $40 million megayacht venue, SeaFair, docked at the Bayfront Park South Dock at Chopin Plaza.
The SeaFair is the ultimate venue for distinguished international dealers to meet new collectors while enjoying Epicurean delights by celebrity chefs and the libations of the MIA Collectors' Lounge. Attendees will experience the quintessential Miami lifestyle of luxuriousness, art, fine dining and culture while enjoying views of Miami's Biscayne Bay.
The expansive growth in downtown Miami continues to make headlines and with MIA in the heart of that buzz it easily sets it apart as the fair to attend. With the new opening of the Pérez Art Museum (PAMM) and the Patricia and Phillip Frost Museum of Science located in Museum Park, and only steps away from the internationally acclaimed Wynwood Art District, downtown Miami is becoming the hub for arts and culture. Thom Collins, director of the Pérez Art Museum, mentioned in a Miami Herald article that, "This is a city where the Arsht Center for the Performing Arts, the New World Center, the new science museum and the PAMM are all going up within a period of about 10 years. That's remarkable. That's instant cultural infrastructure.''
The contemporary fair will gather a carefully selected array of 28 international dealers presenting both established contemporary and emerging artists. Works will be composed of cutting-edge art of all media including photography, painting, mixed-media, sculpture, installation and video. The mission of the fair is to showcase galleries representing the most talented and visionary artists of the 21st century. Some of the highlights this year include Venezuelan sculptor Rafael Barrios, recognized as one of the most revolutionary Latin American sculptors. And Contemporary Italian artist Lorenzo Quinn, considered one of the leading figurative sculptors represented by Halcyon Gallery of London and Shanghai.
From Paris, Art Vitam will exhibit the monumental sculptures of Robert Arnoux whose art is exhibited in the most beautiful parks and gardens of France such as the ones in Auvers-sur-Oise, Saint Jean de Beauregard, le Vert Bois in Marcq-en-Baroeul, Le Jardin du Point du Jour - nominated year garden of 2010 - and also les Jardins de Séricourt – nominated year garden of 2012.
For more information visit the Miami Art Fair Blog. The fair will also highlight a juried exhibition of the works of Miami MFA student works from the University of Miami.
The Fair will commence with a private preview, January 16th from 6 - 8pm for members of the SeaFair Society. The preview evening will continue with a Collectors' Invitational from 8pm-10pm for additional distinguished collectors and VIP guests. The evening will include a never seen before water jet propulsion LED light show on the waterfront from Relentless Watersports; a collaborative combination of cutting edge technology and artistic choreography with the culmination of having the jets land on SeaFair's sky deck.
The fair will be open Friday and Saturday, January 17-18 from 1pm – 10pm and Sunday, January 19, from 12pm – 7pm and Monday, January 20 from 12pm – 6pm.
MIA offers convenient valet and self-parking and optional priority boarding. Tickets can be purchased at the door, $15 for a one-day ticket, $30 for a Priority Boarding ticket, which allows immediate priority boarding. Advance discount ticketing is available online for $10 for a one-day ticket and $25 for a Priority Boarding ticket at MIA Tickets. As per United States Coast Guard regulations, all attendees are required to show a photo ID boarding SeaFair.
For more information on participating exhibitors and programming, please visit the Fair website at http://www.mia-artfair.com.
For information on the one-of-a-kind venue, SeaFair, please visit http://www.expoships.com.
About SeaFair:
SeaFair is the world's first mobile megayacht venue and one of the largest private yachts in the United States. Groundbreaking in scale, ingenuity and style, the innovative exhibition facility - which remains dockside during each event - pairing international fine art, jewelry and collectables with harbor view dining and special events in cities along the eastern seaboard.
The ship boasts three decks of international galleries, two outdoor bars, an international coffee bar, as well as a formal glass-walled collectors' lounge and an open-air bistro on the Sky Deck.
The $40M purpose built exhibition yacht was designed by internationally acclaimed yacht designer Luiz de Basto. At 228 feet and 2,800 international tons, it is one of the largest ships built for commercial operation in the Intracoastal Waterway and requires a draft of only 6.5 feet, allowing it to dock at yacht facilities in central city locations rather than use commercial ports.