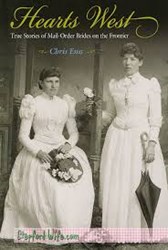 WANTED: A girl who will love, honest, true and not sour; a nice little cooing dove, and willing to work in flour.
Santa Fe, NM (PRWEB) January 16, 2014
The Santa Fe Gallery Association event Art Matters|Santa Fe, will center around "Collections" and true to form, Casweck Galleries has a unique approach in its participation. While focusing on the Western collection of the gallery's anchor artist, Ernest Chiriacka, The Space at Casweck Galleries will present a staged reading of "Hearts of the West ~ Stories of Mail Order Brides," a collection of the letters of mail order brides.
The staged reading will be directed by the founder of For Giving Productions, Janet Davidson. Davidson's last show in The Space at Casweck Galleries for Art Matters, "Motherhood Out Loud," brought down the house.
Coming up with the right piece for this season's Art Matters theme on 'Collections' got Davidson doing some interesting research. Says Davidson, "While looking for a western theme to honor the Chiriacka collection, I realized it would be Valentine's Day and leap year. That brought me to thinking about how people meet today and how it's not that different from the ads placed in the 1800s by both men and women. These mail order brides just had much more of an adventure in store for them."
Desperate to strike it rich during the Gold Rush, thousands of men traveled West to the emerging frontier, where they outnumbered women twelve to one. Only after they arrived did some of them realize how much they missed female companionship.
"Hearts of the West" brings to life true stories of mail-order brides of the Gold Rush era. The stories have always held a mystique, and the drama did not escape Chiriacka. There are several pieces in the Chiriacka collection depicting the new brides and their journeys west. Some found soul mates; others found themselves in desperate situations. Complete with the actual hearts-and-hands personal advertisements that began some of the long-distance courtships, with some letters directly from the Santa Fe New Mexican.
The huge emigration of men to the western United States in the 19th century resulted in a disproportionate ratio of men to women in such places as Washington, Arizona and especially California during the Gold Rush. Mail order brides were by no means a new phenomenon during the 19th century and the settlement of the West; there are accounts of settlers of the new world arranging for brides from Europe. But, with the mystique of the Wild West being what it is, there's something exciting and romantic about a woman who travels west, either by ship or over land, to meet a stranger so they can settle amidst new territory and make it their own. Davidson's company will breathe life into those journeys.
The performance is based on letters from the books of authoress Chris Enss. Enss is a standup comic and comedy writer with an extensive background in radio and television.
Directly following the show on Feb. 8th, Wiz Allred (http://www.museumfoundation.org/product-12933/Gene-Kloss-American-Printmaker-A-Raisonne will speak on "The Art of Collection." Limited seating, reservations strongly suggested.
Casweck Galleries is known for its extraordinary collection by the famed ERNEST CHIRIACKA. Mr. Chiriacka was a famous illustrator during the heyday of illustrators, working for such great publications as SATURDAY EVENING POST, COLLIERS, and ESQUIRE. Mr. Chiriacka illustrated the ESQUIRE PIN UPS for many years and also illustrated over 550 pulp covers.
After that period was over, Mr. Chiriacka went on to great acclaim as an oil painter and sculptor, becoming known as the "Living Remington" while he was working. Mr. Chiriacka passed near the age of 97 in 2010. Casweck Galleries is currently the only place where is his great works are available for sale, although his work hangs in many Museums and private collections throughout the US and Europe.
Casweck Galleries is located at 203 West Water Street in downtown Santa Fe, NM. 505.988.2966. The Space is limited and reservations are strongly suggested.