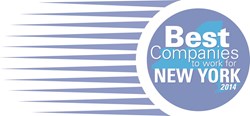 (PRWEB) January 07, 2014
CDPHP® has once again been selected as one of the Best Companies to Work for in New York. This is the sixth consecutive year that CDPHP has been chosen by the Best Companies Group, in conjunction with New York State Society for Human Resource Management, as one the state's top large employers.
The award is based on the company's workplace policies, systems, and practices, as well as a survey, which was open to all employees, that measures employee satisfaction. CDPHP employees enjoy comprehensive and flexible benefits including tuition reimbursement, leadership development, worksite wellness programs, access to an on-site farmers' market, and the ability to pursue community service activities.
"It's an honor to be named to the Best Companies list for the sixth time. As a community-based health plan serving more than 440,000 members, our hard-working employees are the key to our success," said Dr. John D. Bennett, president and CEO, CDPHP. "Their dedication is reflected in CDPHP's mission of building stronger, healthier communities."
In addition to the Best Companies award, CDPHP has earned a number of honors and recognitions in the past year, including:

Capital District Women's Employment and Resource Center Advancement of Women in the WERCplace Award
The Principal® 10 Best Companies for Employee Financial Security – 2013
No. 1 on the EveryMove 100 Health Insurance Index for consumer engagement
Weiss Rating of "A+" for financial stability for customers, vendors and employees
CDPHP will be honored at an awards dinner in Albany on May 6, where final rankings will be announced. For more information on the Best Companies to Work for in New York awards program, visit http://www.BestCompaniesNY.com.
About CDPHP®
Established in 1984, CDPHP is a physician-founded, member-focused and community-based not-for-profit health plan that offers high-quality affordable health insurance plans to members in 24 counties throughout New York. CDPHP is also on Facebook, Twitter, LinkedIn and Pinterest.