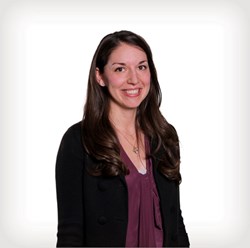 Portsmouth, NH (PRWEB) January 07, 2014
Calypso Communications has promoted Sarah Grazier to vice president, strategic communications—a key leadership position in the 14-year-old Seacoast-based agency. Calypso is one of the only fully integrated, full-service public relations, marketing, and creative design firms in northern New England.
In her new role at Calypso, Grazier will oversee all public relations and communications initiatives, managing a growing team of in-house experts in traditional public relations, media outreach, crisis management, social media, and interactive communications capabilities. She will continue to lead Calypso in supporting Unitil, a provider of natural gas and electricity in New England, and is a senior member of Calypso's accounts with Detroit Renewable Energy and ArcLight Capital Partners.
"Sarah has consistently helped earn the trust and confidence of our key clients," said Kevin Stickney, Calypso's founder. "Her expertise in building successful, cogent client strategies on a foundation of thoughtful analysis and with an array of traditional, digital, and creative tools is exemplary, and has resulted in continued success for both our clients and Calypso."
Prior to joining Calypso Communications, Grazier worked at public relations agencies in Boston, where she supported well-known consumer and non-profit brands including McDonald's, Ronald McDonald House Charities of Eastern New England, and the Joslin Diabetes Center.
Grazier is active in the Seacoast community and was recently accepted to the Leadership Seacoast class of 2014. She serves on both the Emerging Leaders Committee and the External Affairs Advancement Team for the United Way of the Greater Seacoast (UWGS), helping connect the public with the work of UWGS and supporting the organization's marketing efforts. Grazier also volunteers at Portsmouth's Cross Roads House, an emergency and transitional shelter that provides assistance to local homeless individuals and families.
Grazier is a summa cum laude graduate of Boston University, where she earned a B.S. in communications with a minor in art history. She is an avid yoga practitioner and runner.
About Calypso Communications
Calypso Communications is an award-winning, integrated strategic marketing, public relations, and creative agency based in Portsmouth, NH, north of Boston. Highly sought after on a national level for its seasoned insight and perspective, Calypso effectively manages—and, when necessary, fundamentally transforms—client communications, effectively engaging audiences crucial to driving business. For more information, visit http://www.calypsocom.com.