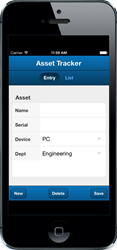 With the great relationship between CM First and Sencha, CM First wanted the opportunity to sponsor local training at Bleeding Edge Web MeetUp. - John Rhodes, CTO, CM First
Austin, TX (PRWEB) January 08, 2014
Building mobile apps doesn't have to be that difficult. As companies increasingly must deliver mobile app versions of legacy applications, the challenge is to transform those business applications into something that works well on any device a customer might select. CM First Group is sponsoring a Bleeding Edge Web MeetUp in Austin, TX on January 21, 2014, 7:00-9:00PM at the Capital Factory in Austin, TX inviting Sencha to present mobile app training. Sencha Developer Relations Manager, Luke Kilpatrick, will give a step-by-step, detailed tutorial on how to build an IT Asset Tracking app using the latest release of Sencha Architect (v3), Sencha Touch and local storage. As a special incentive, Sencha will be giving away a Sencha Touch Bundle license to one lucky attendee.
"This tutorial is hands-on, so make sure to bring a device with a local web server, either Safari or Chrome, and Sencha Architect 3," Luke said. "Go to http://www.sencha.com/products/touch-bundle/ to get a 30-day evaluation copy of the Sencha Touch bundle. In addition, download the code from http://cdn.sencha.io/examples/AssetTrackerExample.txt. Check out the video at http://vimeo.com/72673939."
"CM First is a Sencha Select Partner and offers custom development and tools to exploit Sencha's technical capabilities," notes John Rhodes, CTO. "CM WebClient Mobile, a product designed to generate rich web and mobile applications for CA Plex and IBM i-based environments, is architected to work with Sencha Touch. With the great relationship between CM First and Sencha, CM First wanted the opportunity to sponsor local training at Bleeding Edge Web MeetUp."
Bleeding Edge MeetUp started in 2010 and now has 485 developer/members. The charter was to focus on the topics web developers care about, such as JavaScript tools and frameworks, browsers, HTML5, mobile and web architecture. CM First is one of three sponsors of the Bleeding Edge Web MeetUp.
Become a member and learn more at: http://www.meetup.com/bleeding-edge-web/.
To learn more about CM WebClient, check out the product page at: http://www.cmfirstgroup.com/products/cmwebclient/.
About CM First Group
CM First is a global software and services company with focus on application modernization, custom development of enterprise applications that support high-performing, and agile development teams in three key areas: Application Modernization for IBM Environments, Custom Application Development Architected and Agile, Tools and Technology for Future Development.