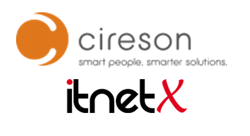 "Cireson and itnetx have really enjoyed working on a project that benefits the entire community."
(PRWEB) January 16, 2014
Starting off 2014 with a free System Center enhancement that will be sure to excite the IT community, Microsoft partners Cireson and itnetx have created the Advanced Send Email app for a more fluid, effective messaging experience within System Center Service Manager. After considering the fact that analysts often require the ability to send an email to an affected user or other recipients, these two expert teams developed this Service Manager solution to simplify an important process within the platform – dissolving the need to utilize an additional program to complete a single task.
With this addition, analysts now have a tool that supports their messaging requirements with features that enhance their processes and offer a number of benefits as listed below.
Advanced Send Mail Benefits:

Simplicity in deployment and configuration, without any requirement of XML editing.
Analysts can attach files to the outbound email.
The analyst can choose a notification template, see the content of the message body based on the template and change the text before sending the email.
The analyst can optionally add the message body to the action log of the incident automatically.
The analyst can add additional recipients to the To or CC before sending the email.
The admin can configure an SMTP server to use to send the email.
The admin can filter the list of available notification templates based on a naming convention.
To see the full benefits of the Advanced Send Mail app, visit the Cireson or itnetx full page app descriptions.
This new solution stands out as an exciting contribution to the System Center community, with much thought and consideration put into making an analyst's workflow more productive and fluid. Both itnetx and Cireson were especially excited to collaborate on a project such as this for the first time, and look forward to spearheading such valuable innovations for the global System Center community for many years to come.
About Cireson:
Cireson was founded on a simple, powerful idea: to be the forward thinkers on all things surrounding Microsoft System Center. Pioneering a team of passionate, partner focused, and technically brilliant System Center experts, Cireson offers the absolute best in market leading apps, deployments, custom development, and training.
About itnetx:
Located in Berne, Switzerland, itnetx GmbH is a specialist in the IT infrastructure environment with a focus on Microsoft Virtualization, Microsoft Systems Management and Microsoft Modern Workplace. Since 2008, they have provided top quality services in the Microsoft environment and assist companies of all sizes and industries in the planning, implementation and operation of solutions.