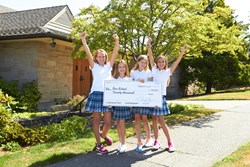 buy and sell items in a focused, trusted group of people, with a portion of each transaction going directly to a school
Seattle, Wash. (PRWEB) January 08, 2014
There is a new school fundraising method in your town – it's called SwopBoard. SwopBoard is an online marketplace that allows users to buy and sell within their community, with a portion of each transaction going back to the seller's school of choice. Headquartered and soft-launched in Seattle, Washington in November 2013, SwopBoard was created by serial entrepreneur and founder, Natalie Angelillo (PhotoDisc, Getty Images) and backed by an experienced group of strategic angel investors out of the San Francisco and Pacific Northwest regions.
With SwopBoard, users have the opportunity to choose whether they will buy and sell within their school, neighborhood and city, or on a much wider scale – the country – as you would on eBay or Etsy. Each transaction involves trusted users who share similar lifestyles, increasing the chances of finding the right buyer and purchasing what users really need. It is free to list an item on SwopBoard and users can donate up to 100% of the net proceeds (a minimum 10% donation is required).
"SwopBoard aims to answer everyday needs for families in addition to providing a meaningful fundraising service to schools," said Founder Natalie Angelillo. "SwopBoard connects you to people in your community that have what you are looking for, and I personally feel a lot safer dealing with someone in my neighborhood than a complete stranger."
On average, users choose to donate 46% of their sales to their school. In just two months, 500 schools in 14 states have signed up on SwopBoard and users have listed thousands of items for sale. Parents at the SwopBoard launch school have raised nearly $4,000 just from buying and selling. There is no extra work for the school - every school in the nation already exists in the SwopBoard database.
"We're in a spot right now where it's really hard to get volunteers," Jennifer Baklenko, Seattle-area Parent Teacher Club President commented. SwopBoard is "something we don't have to put in extra hours for to raise money. It's kind of a no-brainer for us."
In addition to its more traditional buying and selling functions, SwopBoard provides parents and schools with some additional features:

Simple, Fast "I Want" Function. Users can peruse the "Want" list to find items other parents are seeking. When users have something on the "Want" list that they would like to sell, they can easily list that item (all listings are free!) and auto-connect within their immediate community to those seeking that item.
"Help Us Fundraise for a New Playground" with SwopBoad's FundIT Platform. Now parents and PTA are armed with an effective crowd-sourcing tool to raise money for big-ticket items. And, SwopBoard is the only crowd-funding platform that allows users to designate an item's sales proceeds toward a project.
An Intuitive Selling Experience with Built-In Marketing Tools. Buyers can easily ask questions about a seller's item via SwopBoard's message system. Sellers can simply customize their privacy settings and tailor the school's donation amount on an item-by-item basis. Users can even create video listings directly from their smartphones.
In addition to the person-to-person marketplace, SwopBoard also features private collections in the community. "The Spotlight" is the ultimate estate sale combined with a best friend's closet. Every collection is different, with one-of-a-kind finds. And, like always, each transaction benefits local schools. Learn more about "The Spotlight" here: http://bit.ly/1bxL12I
About SwopBoard:
SwopBoard is an online community marketplace that allows users to put the items they have directly in front of the people who need them – in their schools, neighborhoods, and in their cities. Users can buy and sell items in a focused, trusted group of people, with a portion of each transaction going directly to a school on their behalf. Learn more at http://www.SwopBoard.com