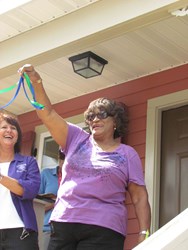 New Orleans, LA (PRWEB) January 08, 2014
This year, New Orleans Area Habitat for Humanity (NOAHH)'s 30th year, was a year of transformation.
The most visible transformation was the move from a smaller uptown offices and downtown ReStore to a consolidated and fresh location on Elysian Fields. Now, all of NOAHH's resources are in one place, allowing us to be more efficient, and the offices allow better communication and coordination between all aspects of the affiliate. To go along with the move, NOAHH had a grand opening event for the ReStore, with food, entertainment, and sales. Along with the grand opening, the affiliate also hosted at the ReStore NOAHH's first ever art show.
The art show is part of NOAHH's transformation. For 30 years, NOAHH has been serving the community with a focus on its mission in very literal terms. NOAHH has addressed the problem of poverty housing in the New Orleans area by offering opportunities for hard working families to own their own safe, affordable homes. The affiliate knows there is more it can do, and it has begun, over the last few years, to seek ways to connect to all facets of NOAHH's neighbors in New Orleans. The art shows have proven a great way to help showcase the work and talent of young New Orleanians and raise money. In January of this year, New Orleans Habitat hosted NOCCA and Newman School students in conjunction with the grand opening of the ReStore, and the event was such a success, NOAHH agreed to continue the project with other schools in the city. NOAHH decided to hold its second in November. Inviting two new schools, St. Martin's Episcopal and Louise S. McGehee School, NOAHH hosted another night of student art, with music, food, and a raffle.
The next major event of the year was the Super Saturday of Service, a major volunteer event hosted by the NFL on Super Bowl weekend. ALong with many other local nonprofits, NOAHH hosted volunteers from all over in working on various sites around the city, where NOAHH staff lead volunteers in park improvement projects.
The spring brought another glorious Carnival season to an end and the annual influx of 1,100 university volunteers for alternative spring break. This yearly demonstration of good will and self-sacrifice has always been a great boon to NOAHH. This year, NOAHH had over 1,100 volunteers from around the United States and Canada. NOAHH welcomed their hard work and held its second annual spring break neighborhood cleanup project called Attack the Block. Four neighborhood parks were chosen, and volunteers helped clear litter, clean sidewalks, and improve green spaces around the city.
May saw the official 30th anniversary celebration begin with the first annual ROMP! The ROMP was an all-day celebration with backyard games, food, drink, and entertainment provided by the 610 Stompers, Big Sam's Funky Nation, and more. Celebrants spent the day playing everything from cornhole to volleyball, ending the festivities in a spectacular tug-of-war showdown that saw one of the teams of 610 Stompers win the coveted Golden Hammer. The next ROMP will be May 10, 2014!
After bad weather cancelled the initial attempts, NOAHH came back and had a resoundingly successful Great American Cleanup Day in June that found city departments, NOAHH volunteers, and neighborhood groups coming together for one large scale cleanup effort. Returning to many of the sites NOAHH visited during Attack the Block, NOAHH collected 300 bags of trash, removed over 100 tires, and cleared over 70 sidewalks on a warm New Orleans Saturday along with 600 volunteers and the support of Keep Louisiana Beautiful, Bunny Friend Neighborhood Association, HandsOn New Orleans, Akili Academy of New Orleans, and city agencies like NORD and the Department of Sanitation.
The centerpiece of NOAHH's year of transformation came at the wall raising of its 500th house. During the ceremony, NOAHH unveiled its vision statement, proclaiming its intention to eliminate poverty housing in the New Orleans area in the next 30 years. Members of city council and NORA were on hand for the event, and Councilmembers Susan Guidry and Jackie Clarkson spoke on behalf of the entire city council.
"Habitat for Humanity is what New Orleans can call a forever partner. They are here. They've been here. They're going to be here for us. And we understand their value, and we appreciate their value," said New Orleans Councilwoman Guidry. "Really, if you look at their programs, you can see how they complete the cycle with everything they do. They assist at every point of what they do."
NOAHH gratefully accepted acknowledgement for its efforts from the city council at the wall raising and again at the dedication of the home in November, when representatives from City Councilmember Latoya Cantrell's office and NORA joined NOAHH. The homeowner, Denise Brown, and her family celebrated the event with food and the traditional Habitat gifts.
Other programs flourished. New ones were begun. Events were held. In October, NOAHH held an electronics recycling event in partnership with Vintage Tech and LG Electronics. The affiliate collected over 6,807 lbs. of computers, 12,295 lbs. of monitors, 6,017 lbs. of printers, 26,105 lbs. of televisions, and another 6,807 lbs. of miscellaneous electronic materials, for a total of 58,031 lbs. of recyclable electronics. NOAHH also continued the New Orleans HUG Initiative this year, and the number of garden lots increased. NOAHH now partner with 13 organizations around the city, totalling 36 lots. The A Brush With Kindness projects were interrupted by personnel changes, but they are back in action now. This year, the affiliate has completed 23 projects, with 4 more underway. NOAHH completed 18 homes, and rehabbed, remediated, or recycled 10 others.
In its 30th year, NOAHH has confirmed its commitment to New Orleans. NOAHH has taken on new programs, revived old ones, and rededicated ourselves to ongoing ones. The affiliate has expanded efforts while remaining focused on its mission. In 1983, NOAHH began its existence as a group that built homes for hard working families, fighting poverty housing. In 2005, NOAHH continued its mission, but took on the increased need for housing and served as a relief organization in some ways, and a recovery organization in others. This year, NOAHH has taken the lessons learned and the wisdom of experience and transformed the affiliate into an organization that will address every facet of its mission, via neighborhood improvement to fight blight, community engagement and empowerment to increase the impact of every hand up, partnerships with organizations that complement its own in order to expand its ability to strengthen New Orleans, and, of course, through building and rehabbing homes to eliminate poverty housing.
Next year will bring the second annual ROMP!, two new art shows with more New Orleans schools, upwards of 30 new homes, four more Attack the Block projects during spring break, more ABWK projects, and new programs and partnerships in furtherance of its mission.
"This year has seen our affiliate rise to new challenges and adapt to new programs," said Jim Pate, NOAHH executive director. "But we're still committed to our original mission. We're looking ahead to the next 30 years and all the good we can bring to New Orleans."