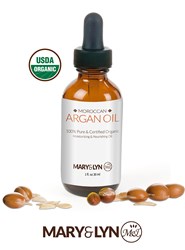 Argan oil has exceptional nourishing and moisturizing qualities for hair, skin and body.
(PRWEB) January 08, 2014
Argan oil has exceptional nourishing and moisturizing qualities. The wonders of Moroccan argan oil for hair may be common knowledge, but not many know about its astounding properties for skin and body care. Argan oil can help restore damaged hair, tame unruly and unmanageable hair, help strengthen the hair, and so on, but it can also be used in facial masks and in a full range of body care products adding its own unique properties. Some of these properties are skin rejuvenation, quick healing and protection from sunlight damage.
Mary & Lyn have partnered with Amazon.com to offer the pure argan oil for skin and hair. A limited time discount code is included in this release.
To help their customers harness all the benefits of argan oil, Mary & Lyn also published the Kindle book Argan Oil Secrets for Beautiful Hair and Skin: over 40 cosmetic recipes for all types of hair and skin.
Argan oil can be used on its own or with other ingredients to enhance the beneficial effects. A simple way to use argan oil on its own is to apply 1-2 drops to clean, towel-dried hair and comb through to moisturize dry hair and restore the shine.
The book contains over 40 cosmetic recipes for hair, face and entire body. Some of them are hair leave-on conditioner, argan oil hair serum, hair mask and hair balm; hydrating facial toner, rejuvenating and anti-wrinkle masks, lip moisturizer; argan oil for hands, cuticles and nails, feet and heels; body and bath oil, body scrub. And there is much more.
This book can be ordered from your local Amazon store. Visit Mary & Lyn argan oil website for more details.
Mary & Lyn 1 fl. oz (30 ml) argan oil is available exclusively on Amazon.com. More information and the link to order page are also available at Mary & Lyn argan oil website.
For a limited time only, you can save 10% on the argan oil using the promo code H6VHWRFK. Just order through amazon.com as usual and enter the promo code during checkout to get the discount. Let your body experience the wonders of argan oil.