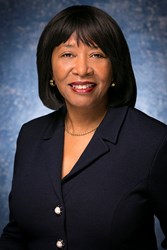 Philadelphia, PA (PRWEB) January 07, 2014
Dr. Helen F. Giles-Gee has joined the Board of Directors of the University City Science Center. Dr. Giles-Gee is president of University of the Sciences.
A well-respected and nationally known scholar, Dr. Giles-Gee has more than 30 years of experience in higher education. Prior to joining University of the Sciences in 2012, Dr. Giles-Gee served as president of Keene State College in New Hampshire, provost at Rowan University, dean of the School of Professional Studies at SUNY Cortland, associate vice chancellor for academic affairs and director of articulation at the University System of Maryland, executive assistant to the president at Towson State University, and chair of biology at Cheyney University of Pennsylvania.
Dr. Giles-Gee currently sits on the national board of directors for Campus Compact as well as the boards for the Greater Philadelphia Chamber of Commerce and the Greater Philadelphia Life Sciences Congress. She is the former chair of the Association of American Colleges and Universities and past president of the Society for College and University Planning. She has served as vice chair of the American Council on Education Commission on Women in Higher Education, and is a member of New Jersey ACE-Net Coordination Board and other prominent organizations.
Since her arrival at USciences, she has received The Mary McLeod Bethune Award from the Philadelphia Section of the National Council of Negro Women, Inc. (2012); has been named one of Philadelphia's Most Influential African American Women (2013) and African American Leaders (2012) by the Tribune and to the 2013 Women of Distinction listing by the Philadelphia Business Journal; and has become a member of The Forum of Executive Women (2013).
Dr. Giles-Gee earned a bachelor of arts in psychobiology, a master of science in science education, and a PhD in measurement, evaluation, and techniques of experimental research from the University of Pennsylvania. In addition, she holds an MS in zoology from Rutgers University.
About the Science Center
The University City Science Center is a dynamic hub for innovation, and entrepreneurship and technology development in the Greater Philadelphia region. It provides business incubation, programming, lab and office facilities, and support services for entrepreneurs, start-ups, and growing and established companies. The Science Center was the first, and remains the largest, urban research park in the United States. Since it was founded in 1963, graduate organizations and current residents of the University City Science Center's Port business incubators have created more than 15,000 jobs that remain in the Greater Philadelphia region today and contribute more than $9 billion to the regional economy annually. For more information about the Science Center, go to http://www.sciencecenter.org.