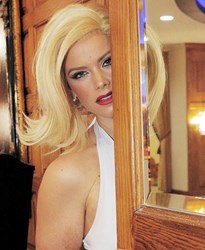 Miami, Florida (PRWEB) January 08, 2014
Elexis Ansley joins the cast of Rat Pack according to Jack Crooner the producer and director of the show.
Elexis is a pop singer and songwriter originally from Baltimore, Maryland who started her career singing in the local Miami scene before joining the cast of the Rat Pack as Marilyn Monroe. It was at the age of 9 when she began studying voice, bass guitar, and classical flute. Elexis continued her studies at the school of music at Florida State University and is now finishing her bachelor degree in music technology at Florida International University. Elexis is a professional singer who is educated in all areas of the field, including composition, recording, producing and sound engineering. She credits most of her inspiration to artists such as Christina Aguilera, Etta James and Adele. Elexis' sultry look and style, powerful vocals and unique tone make her an exceptional musician with originality and class.
They were the coolest cats of all time...Frank Sinatra, Sammy Davis, Jr., Dean Martin, Joey Bishop & Peter Lawford, better known as The Rat Pack! They ruled Las Vegas and Hollywood during the 1950's-1960's.
Audience can relive the days of the Rat Pack with Miami's most famous Entertainers and their live big band as they appeared live in the Sands Hotel Copa Room back in the early 1960's!
With a stellar cast of some of the finest performers in the business, The Rat Pack Tribute Show has been hailed as the next best thing to seeing the original Rat Pack themselves.
The show is live at 9 pm every Friday and Saturday night at Miami Blues Restaurant located at 5445 Collins Ave, Miami Beach.