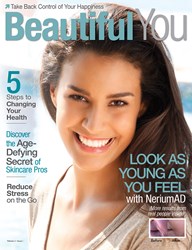 Addison, TX (PRWEB) January 07, 2014
For the second time, Nerium International™ has been featured in Beautiful You magazine, confirming its breakthrough results. In 2011, Nerium International launched NeriumAD® Age-Defying Treatment, and more recently, NeriumAD Age-Defying Day Cream, both of which have had tremendous success.
Beautiful You provides beauty, fitness, health, personal development advice, and inspiration for women of all ages, helping them stay beautiful inside and out. The latest issue features NeriumAD and includes testimonials from beauty experts and consumers, before and after photos, as well as the latest information Nerium's plant-based clinical trials. The issue can be purchased at Barnes & Noble Bookstores, Hastings, and Books-a-Million nationwide through January 31, 2014.
Formulated after more than ten years of scientific research and clinical testing by scientists and medical professionals, NeriumAD's night and day creams address multiple skincare concerns at once, including the appearance of fine lines, wrinkles, discoloration, enlarged pores, uneven skin texture, and aging or loose skin. The NAE-8 extract is a patented blend, derived by combining the best of both the Nerium oleander and Aloe barbadensis plants, and has been shown to have powerful antioxidant properties. Both plants have age-defying properties on their own, and combined they work to amplify the proprietary protein blend that helps the skin appear youthful and tight. Both the safety and efficacy of NAE-8 extract has been tested, documented, and confirmed throughout every phase of product development and testing. Third-party research firm ST&T Research also performed five years of clinical trials on the safety and efficacy of NeriumAD. Using advanced facial scanning, their clinical trials showed a 30% average reduction in the appearance of fine lines, wrinkles, and discoloration over 30 days. They also completed extensive safety testing and analysis.
About Nerium International:
Nerium International™, LLC, headquartered in Addison, Texas, markets breakthrough products validated by science. In 2011, the relationship marketing company partnered with Nerium SkinCare™ Inc, a subsidiary of Nerium Biotechnology, Inc.®, to deliver the NeriumAD™ skincare line. These first-of-their-kind products, which are clinically proven to reduce the appearance of multiple skin concerns at once, are the result of cutting-edge research on the Nerium oleander plant and its age-defying results when applied to the skin. Led by an executive team with more than 150 years of collective experience, Nerium International is committed to developing and distributing skincare products that are rooted in real science, produce real results, and improve consumers' lives. For more information, please visit http://www.mynerium.com.