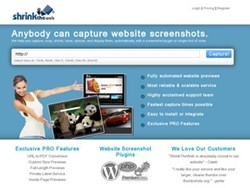 The best decision to help even more of our valued users to utilize the service without having to pay a dime
Atlanta, GA (PRWEB) January 14, 2014
ShrinkTheWeb (http://www.shrinktheweb.com) expands on its freemium pricing model by offering even more features at no cost. A majority of users pay nothing for the service, and now those users will also get three key features at no additional cost. Users who previously paid for those features have had their billing lowered accordingly.
"While this move strongly cut into our revenue, we believe it is the best decision to help even more of our valued users to utilize the service without having to pay a dime," says Brandon Elliott, CEO of ShrinkTheWeb, "...as part of the goal to give back to the web designer and developer community and in order to be accessible to more users."
In today's economy it is hard to find something that is truly free. Many services that are labeled "value," have seen price increases or suffered performance degradation. To the contrary, instead of raising prices or abandoning its freemium offering, ShrinkTheWeb has expanded its freemium package to offer even more bang for no bucks.
It was welcome news that as of August 2013, ALL ShrinkTheWeb users have been able to use:
"Refresh On-Demand" - Make API requests to have a screenshot be re-captured
"Custom Quality" - Choose the image quality you would like to use.
"Custom Delay" - Set a wait time between 0-45 seconds before capturing a loaded web page.
Before these changes, Free Account holders already had a feature-rich automated website screenshot solution, with no major detriment. Now, they still get the same high quality website screenshots as the paid upgrade, with the ability to download and store them locally.
About ShrinkTheWeb™
ShrinkTheWeb offers a service to fully automate the capture and delivery of web page screenshots. The company was founded in 2009 and has been a driving force in the emerging automated website screenshot marketplace. ShrinkTheWeb has always held fast to the idea that website screenshots will eventually become a staple of the Internet. They will become a commonplace replacement or enhancement to simply showing a link. They are the natural evolution to linking and referencing on the web.
For more information, please visit http://learn.shrinktheweb.com.