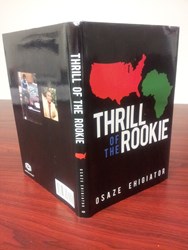 When a dog is destined to get lost, it stops responding to owner's command.
Plano, Texas (PRWEB) January 08, 2014
According to the author of "Thrill of the Rookie," Osaze Ehigiator, the challenges facing new immigrants is of special interest to many people worldwide because the United States' learning process is slow and pain staking. Governor Christie is finally giving these immigrants the break they deserve, says Ehigiator. The author hopes that more people will follow his example because some basic things people take for granted could easily become a real challenge for new immigrants, even if they have an English speaking background. They have to become very elastic or break. There is never a dull moment for these new comers or people around them because any day can easily become a real adventure. He said that, the title-"Thrill of the Rookie", is used to express the ridicule, laughter, and challenges they face when merely going about simple daily routines. These challenges operate like poverty, not recognizing race, gender or color. They apply to all irrespective of where they come from. He said, crossing the finish line and making it to the true American dream is like being in a heavy weight boxing match. One must be prepared to get hit, and be able to hit back, except that many are knocked out in the process. Only the strongest survive, he concluded.
An excerpt from chapter six: (Real Culture Shock Begins).
"In spite of the one-day crash course on the various food items, it still took me more than six months of working in restaurants to get comfortable with all the food. One afternoon during rush hour a few days after I got hired at the Del Taco fast-food restaurant at Alpha and Montfort in Dallas, one of the crew members named Jersey told me to go into the walk-in and bring some American cheese. I rushed in and brought back some kind of cheese, but it was not the American cheese he had requested. "Holy Cow, this man does not know enough to work here. He does not even know the different kinds of cheese. He is not going to make it here," he said. "Are they not all made in America?" I asked him. But in a few weeks I had outshined them all by becoming the employee of the month."
http://latino.foxnews.com/latino/politics/2014/01/07/nj-gov-christie-holds-ceremonial-signing-in-state-tuition-bill-for-undocumented/
Book available @
http://www.amazon.com
http://www.OSAZEPAGE.COM
http://www.BN.COM