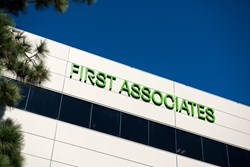 Success in enabling clients to build lending and leasing programs that are scalable, flexible, secure and compliant.
San Diego, CA (PRWEB) January 07, 2014
First Associates Loan Servicing, LLC, the nation's fastest growing consumer loan servicing firm announced the launch of the company's new website today at http://www.1stassociates.com. The January 2014 launch starts off the New Year with the new look and feel of the First Associates brand. The new website features enhanced resources and functionality that enables a richer, more dynamic user experience.
Based in San Diego, CA, First Associates Loan Servicing is the fastest growing third party consumer loan and lease servicer in the U.S. The company offers a wide range of solutions for many consumer asset classes. First Associates consistently receives industry recognition for exceeding high performance standards and providing superior levels of support. First Associates has experienced management and staff, full SSAE 16 II audit, Best-in-class IT infrastructure, as well as strong institutional relationships with commercial and investment banks, finance companies, hedge funds and credit unions.
"We're excited to introduce our new website. First Associates has always been an innovator in the consumer finance industry and this new website reflects that." said David Johnson, CEO of First Associates."2014 is already shaping up to be a milestone year for First Associates. We will be introducing new products and services this year and continue building our leadership position in areas like solar leasing and peer to peer lending. The new website will help us communicate our success enabling clients to build lending and leasing programs that are scalable, flexible, secure and compliant."
The new website includes easy-to-find LinkedIn and Google+ links as well as contact forms for general information, or the ability to subscribe to the First Associates newsletters. All news and updates will be archived on the website which will help keep partners and new strategic alliances up to date with their specific industry news, as well as First Associates news.
New website features include:

Easy to navigate layout
Easier access to social media platforms which now include Google+
Easy access to the First Associates newsletter
User friendly employment portal that allows the user to search for positions and submit resumes
About First Associates Loan Servicing, LLC
Headquartered in San Diego, First Associates has more than 25 years of experience in the consumer finance industry, State-of-the-art technology and the infrastructure to meet the demands of any client. First Associates services a range of consumer asset classes including Auto, Marine, Private Student Loans, Structured Settlements, Timeshares, Vacation Lots, Mobile homes, Green and Solar Technology, and more.
For more information, visit http://www.1stassociates.com