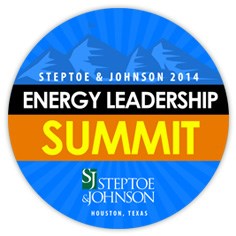 Houston, TX (PRWEB) January 07, 2014
Steptoe & Johnson PLLC has put the final touches on the agenda for its Energy Leadership Summit to be held in Houston on Tuesday, January 14, 2014. The Summit will be held at The Petroleum Club beginning at 8:30 a.m. The day-long event includes presentations and panel discussions designed to brief energy industry decision makers on emerging issues in shale gas development.
More than two dozen Steptoe & Johnson energy attorneys from Texas, Colorado, Pennsylvania, and West Virginia will be on hand as moderators and presenters.
Some of the topics include:

Structuring deals and energy transactions
A panel discussion on industry threats, trends and upcoming legal actions
Pooling and unitization in shale producing states
Midstream issues
International energy development
The results of a Steptoe & Johnson commissioned study on the greatest challenges in shale development inspired the Energy Leadership Summit. The year-long study showed that most legal disputes in energy involve conflicts with landowners, title issues, leases and contracts. Plus, the average shale developer's annual litigation costs often top three million dollars. To view the findings, visit "Beneath the Surface."
For more information on the Summit, log on to: http://www.steptoe-johnson.com/houston-energy-summit. The 2014 Energy Leadership Summit is approved for Continuing Learning Education credits in Oklahoma, Texas, Colorado, Kansas and Pennsylvania. AAPL Landman credits will also be available.
About Steptoe & Johnson
Steptoe & Johnson PLLC is a U.S. energy law firm with core strengths in energy, labor & employment, litigation and transactional law. In 2013, Steptoe & Johnson celebrated 100 years of helping clients reach their goals. http://www.steptoe-johnson.com.
For more information, contact Betsy Spellman, Chief Marketing Officer, at (304) 933-8000 or by email: betsy(dot)spellman(at)steptoe-johnson(dot)com.