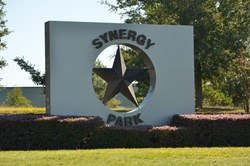 Kilgore is fairly centrally located between Tyler and Longview. We draw a lot of employees from both areas.
Kilgore, TX (PRWEB) January 08, 2014
Since 1990, property values of land developed by Kilgore Economic Development Corporation in Kilgore, Texas, have skyrocketed. For example, the land value of what is now Synergy Industrial Park was $398,000 in 1990. That same land and the investment on it today are valued at $97.45 million.
Companies that have driven that value increase include four warehousing and distribution operations, two technology companies; a metal fabrication company; and one in oilfield services.
Vic Price, vice president of distribution for Orgill's Southwest Region, has attested that Kilgore has become an inviting place for distribution centers and big business. Orgill is the world's largest privately owned hardlines distributor in the world, providing more than 75,000 products and retail services to 60 countries.
"When we started looking (for a location)," Price said in a recent interview, "the location was one of the major concerns for us. We're in transportation so we wanted access to Interstate 20. The other important factor was the availability of employees. Kilgore is fairly centrally located between Tyler and Longview. We draw a lot of employees from both areas."
The Longview and Tyler MSAs have a combined population of 436,009, making a central location ideal for workforce recruitment.
Ty Sharp, president of KEDC, adds that certain business tools put into place also make a difference in profitability. "We have a triple Freeport tax exemption, an Alternate Site Framework designation to our Foreign-trade Zone and a sales tax dedicated to economic development," he said. "Kilgore has the right tools, the right people and the right plan to move forward."
And move forward it has. Since 1990 industrial property as a whole has grown faster than any other category of property. The top ten taxpayers have increased in value 504%. The per capita value of industrial property in Kilgore is $41,878 and is up to 22 times larger than neighboring cities.
Residents have prospered as well. Per capita personal income is 104% of the U.S. and 107.66% of Texas. In 1990 it was only 90.2% of the U.S. and 101.9% of Texas.
"Kilgore has had strong leadership at the economic development, city and county levels," said KEDC Executive Director Amanda Nobles. "We have been good stewards of public funding and invested in projects that meet our vision of a strengthened and diverse economy."
For 2014 KEDC will be concentrating on tasks that further align with that vision. For example:
1. Asset development
In Synergy Business Park, 163 shovel-ready acres are being cleared and the board of directors has instructed staff to begin the process of constructing a third shell building.
2. Workforce pipeline
Building plans are complete and a site on the Highway 259 Loop is being cleared for the KEDC Advanced Technology Center. The shop-like training center will teach advanced welding skills as well as other disciplines. It is expected to open in the fall.
About KEDC: Kilgore Economic Development Corporation is an organization founded in 1990 and funded by a dedicated sales tax approved by voters. It is directed by a five-person board and managed by a staff of four with certifications in business retention and expansion, economic and community development, and economic development finance. KEDC has won international awards for excellence in economic development.