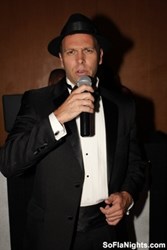 Miami, florida (PRWEB) January 08, 2014
Jeff Grainger joins the cast of Rat Pack according to Jack Crooner the Producer and director of the show.
Taking you back to a Golden Era when those with golden voices touched the hearts and ears of millions, Jeff Grainger performs all the favorites of the legends -
Frank Sinatra, Dean Martin, along with Manilow, Diamond and other newer contemporary artists.
Grainger has been performing at various venues across Miami, Fort Lauderdale and South Florida over the past decade, sparking romance and delight to his audiences.
They were the coolest cats of all time...Frank Sinatra, Sammy Davis, Jr., Dean Martin, Joey Bishop & Peter Lawford, better known as The Rat Pack! They ruled Las Vegas and Hollywood during the 1950's-1960's.
Audience can relive the days of the Rat Pack with Miami's most famous Entertainers and their live big band as they appeared live in the Sands Hotel Copa Room back in the early 1960's!
With a stellar cast of some of the finest performers in the business, The Rat Pack Tribute Show has been hailed as the next best thing to seeing the original Rat Pack themselves.
The show is live at 9 pm every Friday and Saturday night at Miami Blues Restaurant located at 5445 Collins Ave, Miami Beach.