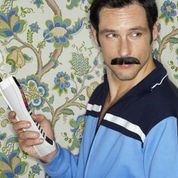 "THE BRICK mobile is truly unique," says Dino Lalvani, Chairman of Binatone. "Not only does it have that big, classic look - but it is a 2-in-1 device."
Las Vegas, NV (PRWEB) January 07, 2014
Meet THE BRICK from Binatone, a family of fun and functional phones and mobile accessories that celebrate the cell phone that started it all.
"THE BRICK mobile is truly unique," says Dino Lalvani, Chairman of Binatone. "Not only does it have that big, classic look - but it is a 2-in-1 device. THE BRICK can be used as either a bluetooth handset for your smartphone or a powerful standalone mobile phone by simply installing a SIM card."
The Brick's most compelling selling feature: a one month standby time and 14 hours of talk time. "Smartphones today have notoriously short standby times," says Lalvani. "The Brick delivers one month of standby time. Think about it – that's over 700 hours of standby time. That's 100 times more than many smartphones!"
The POWER edition of THE BRICK sports even more impressive numbers with three months of standby time and 28 hours of talk time. In addition, THE BRICK POWER model can also be used to charge your smartphone via a USB port, making it not only a fun, retro phone but also a great second mobile to have handy in the event of an emergency.
Both THE BRICK and THE BRICK POWER models feature a large speaker and a micro SD slot that allows users to load and play their favorite music. The speaker also enables THE BRICK to be used as a hands free bluetooth device. Other features include an FM radio and an LED flashlight. And for retro-gamers, THE BRICK even features a classic mobile phone game, Snake.
Along with the 2-in1 BRICK mobile phones, a DECT cordless model called THE BRICK HOME will be available for home phone users. THE BRICK HOME will blow away other cordless home phones with a one week standby time and an operating range of over 1/2 mile. Like its mobile brothers, THE BRICK HOME is fun, functional, and the phone you want to have around in an emergency such as a power outage.
Products & Pricing

THE BRICK ORIGINAL: 2-in1 mobile with 1 month standby ($69.99 MSRP)
THE BRICK POWER: 2-in1 mobile with 3 month standby ($99.99 MSRP)
THE BRICK HOME: cordless home phone with ½ mile range ($79.99 MSRP)
For more information on the BRICK series of mobile and home phones, please visit http://www.meetthebrick.com.
About BINATONE
During the past 55 years, London-based Binatone has become a world leader in communication electronics, with expertise in a wide range of products, including telephones, mobile phones, tablets, baby monitors and pet training products.
Binatone products are sold in more than 50 countries worldwide. Binatone continues to identify trends and meet consumer demands by introducing innovative technology. Binatone owns the brands iDECT, Appstar, Voxtel and is official licensee for Motorola and AEG.
###