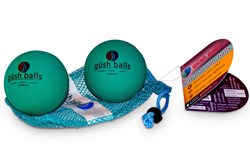 Gush Balls are for Athletes, Runners, Travelers, Cyclists, Yogis, Desk Jockeys... Everyone!
Miami Beach, FL (PRWEB) January 08, 2014
Gush Balls were designed to increase tissue flexibility while decreasing stress. The entire human body is lined with a connective tissue called Fascia. It links every muscle, bone, nerve, artery and vein, as well as all internal organs, including the heart, lungs, brain and spinal cord. It's essentially the glue that binds everything together. When the fascia loses its pliability, it becomes a source of tension and pain. By simply keeping fascia healthy and flexible, it creates a harmonious balance throughout the entire body. Too big, too small, too hard, too soft, too absorbent... Foam rollers are too bulky and 'compress', our balls dig deep into muscle tissue to release knots. Lacrosse Balls are too hard and only comprised of a single core, versus Gush Balls 3-layer core tested and approved by fitness professionals. Used daily by athletes, runners, travelers, cyclists, yogis, & desk jockeys!
There is a simple solution, Gush Balls. Unlike the conventional foam roller, bring it everywhere and use it anywhere. Its unique grib-and-grab texture, combined with a 3-layer core, provides just what is needed to help relieve pain, loosen tight muscles, reduce stress, improve circulation, improve joint mobility, release tight fascia, alleviate tension and much more! Try a set by visiting GushBalls.com.