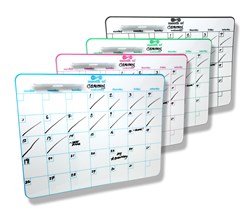 Chino, CA (PRWEB) January 10, 2014
The new year is here, and chances are we are still struggling to remember to write down "2014" instead of "2013". For those that still have their old calendars flipped to last month, why not invest in a calendar that can be reused again and again?
Modern housewares company UM! Brands has recently released yet another version of their popular whiteboards, the Note UM!. Available in various sizes and colors, the Note UM! has also been recently made available in Neon colors. Now, just in time for the new year, the Note UM! is now available in a calendar form.
The Note UM! Calendar is easy enough for anyone to use. Simply fill in the squares with the days of the month! There is enough room to make a quick memo in each square as well. The calendar also comes equipped with a dry-erase marker, clipped on the board so you won't lose it! When the month is over, simply erase, and repeat.
Many other whiteboard calendars exist on the market, but what is it that makes the Note UM! Calendar different from all other whiteboard calendars? Simple: UM! Brands' EverSTIK Nano-Suction adhesive backing, which makes it simple enough to apply on any smooth surface. EverSTIK's surface contains the power of a million tiny suction cups that make it strong enough to hold items as heavy as ten pounds when used on smooth surfaces. Since the adhesive is suction-based it is reusable, sticks on any smooth and non-porous surface, and leaves walls damage-free.
Available in four colors (black, pink, blue, and green) and easy enough to place anywhere you see fit, the Note UM! Calendar is a great choice for those that need something quick, convenient, and easy to use.
For those not familiar with the company, UM! Brands makes a variety of products with their EverSTIK Nano-suction adhesive backing that include hooks, whiteboards, clips, picture frames, and mirrors. To find out more about UM! Brands and EverSTIK, visit their website at http://www.um-brands.com.