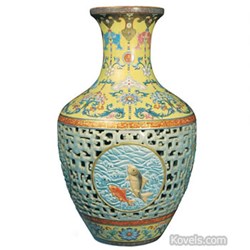 Cleveland, OH (PRWEB) January 08, 2014
Kovels Komments, the weekly eNews about antiques & collectibles from Kovels.com, lists the top 8 stories of 2013 with some follow-up:
1. January 23, 2013: Record-Setting Chinese Vase Is Resold for Half the Original Price
An 18th-Century Chinese vase sold at auction more than two years ago to a buyer from China for $89 million. The buyer refused to pay. Negotiations resolved the problem. Another buyer, also from China, bought the vase in a private sale for more than $31 million. Both the seller and the auction house have been paid. (See Kovels' Komments Nov. 17, 2010, Mar. 16, 2011, and Jan. 23, 2013)
2. October 2, 2013: Stuffed Squirrels Fight for High Prices
Stuffed squirrels don't sound like expensive collectibles, but four boxes, each holding a pair of 19th-century boxing squirrels, sold for $17,700 to $22,420 at a Rachel Davis Fine Arts auction in Cleveland, September 2013. We counted about 50 bids for each pair. The red squirrels were mounted by William Hart & Sons in about 1850. Hart was one of the most famous taxidermists in England and did several sets of squirrel "Pugilists." His son, Edward, was also famous as a taxidermist and made more of the anthropomorphic squirrel sets. The c.1850 squirrels that sold at auction wore boxing gloves, which weren't required in real boxing rings until the Marquess of Queensberry rules went into effect in 1867.
3. March 27, 2013: $3 Yard Sale Bowl Sells for $2.22 Million
A $2.22 million bowl sold at Sotheby's in London on March 19, 2013. A New York couple bought the bowl in 2007 for $3. It's 5 inches in diameter and was made in China during the Northern Song Dynasty (960-1127). Only one other like it is known and that one is in the British Museum. The expensive bowl is white and has a molded leaf decoration outside and an etched flower design inside. The sellers displayed the bowl at home until recently, when they noticed the high prices paid for Chinese ceramics. So they had the bowl appraised and Sotheby's listed it for sale at $200,000 to $300,000. When the owners heard the bowl sold for millions, they emailed back, "WOW!!!" The buyer, one of four bidders, is said to be the world's foremost dealer in Oriental art. He says he plans to sell it.
4. November 6, 2013: Box in the Attic Holds $5.98 Million Faberge Figure
A Faberge hardstone figure was found last summer during a search of the attic in a Rhinebeck, N.Y., house included in an estate. A small, plain box was opened and inside was a rare carved figure resting on silk lining with the Faberge emblem. A December 1934 bill of sale from Hammer Galleries was also found. Armand Hammer bought Russian treasures with the help of the Soviet government, which needed cash in the 1930s. The 7-inch high figure, the bodyguard to Empress Alexandra, is made of jasper, sapphires, nephrite, sardonyx, purpurine, gold, enamel and cachalong (a type of opal). Estimated at $500,000 to $800,000, it sold for a record $5,980,000. The buyer was a Russian jeweler. The auction was Oct. 26, 2013, at Stair Galleries in Hudson, N.Y.
5. June 5, 2013: Banksy Mural Sells for $1.1 Million
The Banksy mural titled "Slave Labour" (Kovels Komments, May 22, 2013) sold at a private auction in London on June 2, 2013, after a long controversy. A sale scheduled for last February in Miami was stopped, and those living near the mural's original site want to stop the London sale, too. They want the mural returned to the north London neighborhood where Banksy first displayed it. The selling price was reported to be $1.1 million. (See Kovels Komments May 22, Jun. 5 and Oct. 16, 2013)
6. April 10, 2013: Honus Wagner T206 Baseball Card Sets Auction Record
A Honus Wagner card graded "excellent" sold at Goldin Auctions in New Jersey for $2,105,770.50, the highest price ever paid for a baseball card sold at auction. Fewer than 200 Wagner cards were issued before Wagner asked that production be stopped, perhaps because he did not want to be part of a cigarette promotion. Less than 50 of the 1909–1911 T206 Wagner cards are known, and this may be the one in the best condition.
7. January 9, 2013: Do Your Own Safety Checks
The National Museum of the U.S. Air Force discovered that the A-1E Skyraider plane, on exhibit since 1968, still contained 200 gallons of fuel, a major fire hazard. The museum, in Dayton, Ohio, requires all exhibited aircraft to be defueled, but someone made an error 45 years ago. Part of the museum was closed while every aircraft exhibit was inspected. Collectors must be careful. If you find bullets, hand grenades, dynamite, or other war souvenirs stored in a hot attic--or anywhere--call your local fire department, police department or bomb squad. Explosives deteriorate and can explode if moved carelessly.
8. January 16, 2013: Another Explosion Avoided
On January 11, 2013, workers in New York's Central Park found that a Revolutionary War cannon owned by the park was still loaded with gunpowder and a cannonball. The New York bomb squad was called. Squad members tilted the barrel of the cannon, and the cannonball rolled out. They removed over a pound of gunpowder. It could have exploded. Again--be careful with any antiques that could hold gunpowder or other explosives. They can explode if moved carelessly.
For more top stories, go to Kovels.com.
Terry Kovel is America's foremost authority on antiques and collectibles. She is a well-known columnist and the author of more than 100 books on antiques and collecting. With her daughter, Kim Kovel, she co-authors the best-selling annual "Kovels Antiques and Collectibles Price Guide." Both Terry and Kim are collectors. They will discuss antiques and collectibles topics with accredited media. Photographs are available. Contact pr(at)kovels.com.
About Kovels.com
Kovels.com, created by Terry Kovel and Kim Kovel, provides collectors and researchers with up-to-date and accurate information on antiques and collectibles. Kovels' Antiques was founded in 1953 by Terry Kovel and her late husband, Ralph. Since then, Kovels' Antiques has published some of America's most popular books and articles about antiques, including the best-selling "Kovels' Antiques and Collectibles Price Guide," now in its 46th edition. The Kovels' website, online since 1998, and free weekly email, "Kovels Komments," give readers a bird's-eye view of the market through the latest news, auction reports, free online Price Guide, a Marks Dictionary, readers' questions with Kovels' answers and much more.
Contact Information:
Liz Lillis
216.752.2252
Pr(at)kovels(dot)com