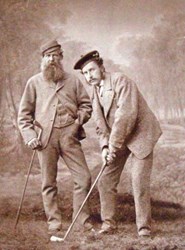 Simply put, this may be the greatest golf memorabilia discovery in history.
Tampa, FL (PRWEB) January 07, 2014
Since its discovery hidden in a St. Andrews horse stable, the personal photographs of the grandfather of golf, Old Tom Morris, have reached a legendary status in golf circles. Now, the entire collection is up for auction and is expected to fetch in excess of $200,000.
The so-called "Stable Find" is considered one of golf's great treasures. In the 1990's, Eric Auchterlonie – of the famed St. Andrews golfing family – passed away in his home in Pitscottie, Fife, just outside of St. Andrews. On the property grounds, inside an old horse stable and hidden behind two large hessian coal stacks, was one of the most historically significant golf collections in the world – Old Tom Morris' personal golf photographs. Word of this so-called "Stable Find" quickly spread throughout the golf world.
The collection consists of over forty photographs from the 1800's that belonged to Old Tom Morris himself. Upon Old Tom's death in 1908, the photos were given by the Morris family to his former apprentice (and 1893 Open Champ) Willie Auchterlonie. According to the Auchterlonie family, the photos were then housed at the Auchterlonie's Golf Shop on Albany Place in St. Andrews for more than three decades. They were then relocated to the company's Union Street location for safekeeping during the air raids of World War II. The collection was then passed down through the Auchterlonie family until its fateful re-discovery in the now-famous "Stable Find".
During Old Tom's life, these photographs likely decorated the walls of Old Tom Morris' golf shop next to St. Andrews famed 18th green, or even hung in the Morris family home above the shop – where his son Young Tom died on Christmas Day 1875.
The Old Tom Morris Collection is currently up for auction in individual lots at http://www.GreenJacketAuctions.com.
About the Auction:
Green Jacket Auctions' Winter Golf Auction is currently open for bidding and will conclude on Saturday, January 18, 2014. The auction features over 480 lots of rare golf memorabilia. Auction items, including the Old Tom Morris Collection, are available for photographing and viewing in New Jersey.
Other auction highlights:
Bobby Jones Signed Original Augusta National Stock Certificate – Estimate: $5,000+
Original Program from Inaugural Masters Tournament in 1934 – Estimate: $10,000+
Collection of Bobby Jones and Augusta National Photographs – Estimate: $200-$1000+
About Green Jacket Auctions, Inc.:
Green Jacket Auctions, with offices in Tampa, FL and Denville, NJ, is the largest online golf antiques and memorabilia auction house in the world. It hosts quarterly auctions of rare golf memorabilia, which are participated in by collectors and institutions in over 50 countries.