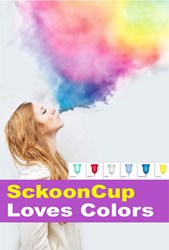 Menstrual cup can be colorful and pretty. In addition to the functions, we women all love colorful and great looking tools to liberate our period experience,
Miami, FL (PRWEB) January 08, 2014
Tampons have been available since the late 1920s without much innovation or change in design. Recently, a new revolution in feminine care has begun – menstrual cups. As women search for healthier products that are both easy-to-use and cost-effective, a strong and rapidly market for menstrual cups has emerged.
In 2012, the number of global Google searches for "menstrual cup" grew to 123,000 per month – a 500% growth compared to 2007 data! Menstrual cups are becoming mainstream in the U.S and worldwide.
SckoonCup, launched in March 2013, has quickly become a premier produce in the female hygiene market. A comfortable internal menstrual cup, SckoonCup is a safe, effective alternative to tampons and disposable pads. Made from FDA-approved, soft, medical-grade silicone, it's safe, reusable and environmentally friendly.
"SckoonCup was designed after listening to our customers and responding to their needs. We took three years in research and development to design a new menstrual cup that solves many issues that bother women when they are using menstrual cups" said Satoko Asai, co-founder of Sckoon Inc.
Soft, Sleek, Smooth, Sckoon
Following extensive R&D and focus on creating menstrual cups that are more comfortable and safer for the women, SckoonCup is quickly becoming one of the most sought-after menstrual cups. This is why:
SckoonCup Attributes: More comfortable, less chance of leakage, clogging or irritation than other cups

Made of softer & squishier medical grade silicone for easy insert/removal. Easier to use for beginners and for those who couldn't use other menstrual cups, which are typically made of stiffer material.
Smoother outer curve without having "bumps" like other menstrual cups. Comfortable for insert/removal and little to no feeling inside when it is in use.
Angled suction holes pointing toward the rim provide the maximum capacity and protection. Less chance of leakage than other cups. They are designed so SckoonCup is high in capacity yet feels smaller than other cups.
SckoonCup is made from one single piece of silicone, with a completely smooth outer surface. Most menstrual cups are molded in two pieces before assembly, leaving them with a seam on the side of the cup that can cause irritation.
SckoonCup's suction holes are also part of the molding process – not added later by piercing the wall vertically – leaving ours completely smooth, without any sharp, uncomfortable edges or problems with clogging. Also, this feature makes SckoonCups last longer.
Colorful Brand Personality Appeals to Users
In addition to the design attributes, SckoonCup offers beautiful color selections. Available with 6 color variations, (Harmony - Aqua, Wellness - Red, Clarity - Clear, Balance - lilac, Meditation - Blue, Sunrise - Yellow), SckoonCup spreads the visual messages with a tagline of "SckoonCup loves Colors" messages though Instagram, Google Plus, Pinterest, Facebook, and Twitter.
"Menstrual cup can be colorful and pretty. In addition to the functions, we women all love colorful and great looking tools to liberate our period experience," said Satoko.
With a simple yet powerful slogan of "Soft, Sleek, Smooth, SckoonCup" the brand focuses on increasing awareness of its product differentiations. SckoonCup is the first menstrual cup that focuses on branding in the reusable menstrual cup industry.
The Sckoon Organics Story
In 2003, Sckoon Organics started selling 100% certified Egyptian organic baby clothes to retailers in New York. In just five years, sales exceeded $3 million and Sckoon Organics was featured in Entrepreneur Magazine as one of "the Hottest 7 Businesses in America" (http://www.entrepreneur.com/article/197078). Sckoon Organics' stylish baby clothes have been featured in prominent baby magazines like Parents, American Baby, Child and Mothering. Sckoon's products are now sold in more than 2,300 stores in 37 countries.
Sckoon Organics then introduced SckoonPads. These certified organic cloth menstrual pads are a healthy and sustainable alternative to disposable sanitary pads, which can contain chemical bleaches and dioxin. To further meet the needs of health-conscious consumers, Sckoon cleared FDA approval last March and launched the softest and most innovative menstrual cup, SckoonCup.
Sckoon's mission is to provide well-designed, highly functional products that make our customers' lives easier, healthier, greener and more enjoyable. Sckoon continues to grow by adding innovative product lines to our original stylish organic baby clothes.
Menstrual Cup Trends
Tripled in US and Worldwide
According to Google Trends, the number of searches for "menstrual cup" tripled both in the US and worldwide between 2005 and 2012, compared to a decline in searches for "Tampax tampon" during the same time period.
For more information or to review our products, visit http://www.sckooncup.com. Please feel free to download images from our website. To request product samples, please call Customer Service at 1-212-228-6903 or service(at)sckoon(dot)com.
Sckoon supports our loyal community of environmentally conscious consumers through active involvement in social networks such as Facebook, Twitter, Pinterest and Google+.
Facebook;
https://www.facebook.com/SckoonCup
Google+;
https://plus.google.com/+Sckooncup/posts
Pinterest;
http://www.pinterest.com/sckoon
Twitter
https://www.twitter.com/Sckoon