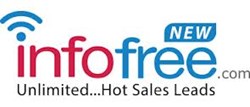 Omaha, NE (PRWEB) January 13, 2014
Infofree.com, the top provider of unlimited sales leads, email lists and mailing lists for small businesses has announced the debut of its new national television advertising campaign. News networks such as CNN, CNBC, MSNBC and Bloomberg will air the 30-second spot, as well as sports networks like Fox Sports, Big 10 Network, ESPN News, and the NBA and NHL networks.
"We are taking an aggressive approach to advertising our product in 2014," says Vin Gupta, Infofree.com founder. "We are reaching smart, successful professionals across the nation and letting them know that infofree.com is the best sales productivity tool available in the market today."
The ad promotes a free trial which will give viewers a glimpse of infofree.com's services including the unlimited search, select and view of sales leads. Audiences will be able to sign up for a subscription and create targeted lists using over 200 databases to target over 16 million businesses and 225 million consumers.
National TV advertising is Infofree.com's dexterous launch into the first quarter of 2014 and its fourth year as the industry leader in sales leads generation. Infofree.com is starting 2014 strong with over 100,000 users, new features such as unlimited business credit reports, unlimited background searches, and the approaching launch of its new customer relationship management product, CRM101.
To learn more about Infofree, visit http://www.infofree.com or call 1-877-448-0101.
About Us: Infofree.com™ is revolutionizing the sales lead and mailing list industry by providing unlimited search, select and view of over 16 million business records, 225 million consumers, and hundreds of other specialty databases for the low, flat price of only $49.95 per month or $449 per year. Reach new homeowners, new movers, newlyweds, new businesses, and more.