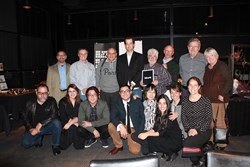 Burbank, California (PRWEB) January 15, 2014
The Metal Finishing Associations of Southern and Northern California (MFASC, MFANC), National Association for Surface Finishing (NASF) Chapters, in conjunction with the Art Center College of Design in Pasadena, California, have announced the winners of the 2013 West Coast Bright Design Challenge. Those awarded scholarships at the recent awards presentation in December include:

Nicole Eng
Martin Francisco
Woosung "Daniel" Kim
Kasia Burzynska
The annual competitive program invites students from around the country to think beyond traditional design theory and bring out their very best creative spirit in developing "next generation" engineering solutions incorporating the use of surface finishing.
Participants work within strict, realistic guidelines and focus on specific elements unique to the projects they are developing. Time management skills play a strong role in the competition due to tight deadlines throughout the intense 12-week competition. The Association awards $15,000 in scholarships based upon both creativity and use and understanding of surface finishing.
"We're pleased to work with the Art Center College of Design as they spotlight the role of metal finishing and its impact on society. The Bright Design Challenge reflects our commitment to spurring innovations within the industry and cultivating new ideas and fresh application for finishing outside company walls," stated Bryan Leiker, Director of Sales and Marketing for K & L Anodizing and Metal Finishing Association of Southern California Board President. "We remain dedicated to promoting the industry's contribution to society and young professionals who are interested in coatings and their limitless applications, and we applaud this year's group of students who embraced the themes of sustainability and marketability within the scope of their projects."
About the NASF and its West Coast Chapters
The Metal Finishing Association of Southern California (MFASC) and the Metal Finishing Association of Northern California (MFANC) are chapters of the National Association for Surface Finishing (NASF) who represents the total surface finishing industry as a key segment of the North American and global manufacturing value chain. Membership includes some of the industry's leading companies, and has membership linkages to job shop and "captive" applicators, chemistry and equipment supplier companies, global OEM's, technologists, manufacturing professionals and researchers. All programs and activities are anchored by NASF's mission to advance an environmentally and economically sustainable future for the finishing industry and promote the vital role of surface technology in the global manufacturing value chain.
For further information on the MFSC, MFNC and NASF, visit nasf.org.