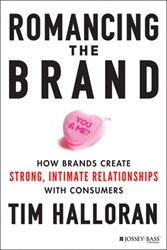 San Francisco, CA (PRWEB) February 03, 2014
A couple camps overnight outside an Apple store to be first to buy the new iPad. A fan tattoos a Harley Davidson logo on his ankle. A young woman claims her Diet Coke is like her boyfriend. Are they crazy?
No. Research reveals that the connections people make with brands can be as deep and emotional as the relationships they have with other people. With some brands, one has wild, short-term flings. With others, one "falls in love" and enter a mutually beneficial relationship.
In Romancing the Brand: How Brands Create Strong, Intimate Relationships with Consumers (Feb. 3; Jossey-Bass), brand expert Tim Halloran argues that today's effective marketer must foster a deep, committed, and emotionally-connected relationship with their consumer base.
While marketers generally excel at wooing customers to try their products in the short term, they often stumble when it comes to keeping the sparks alive in a long-term relationship. To reap the benefits of a romance, Halloran shows the secrets to identifying the right consumer, "meeting" that consumer in the right context, evolving and strengthening the relationship, and, on occasion, deciding when to start over or move on.
Research has proven the importance of meaningful brand-consumer engagement and interaction. People don't just consume or interact with brands, Halloran notes; they actually engage in relationships with them. With some brands, there are wild, short-term flings, while others stay last a lifetime - like family. Some brands offer strictly utilitarian relationships; they are in one's daily life, yet there is no emotional connection to them.
To win and keep customers in today's brand environment, marketers must go beyond thinking about consumers as "target markets" simply to achieve awareness, trial and repeated purchases. They need to think about engaging consumers in a long-term relationship.
Halloran shares practical tips for creating and nurturing a genuine brand-consumer relationship with numerous entertaining stories based on firsthand interviews with the marketers of some of the world's most iconic brands. These lessons include:
-Make Them Feel Special: Instead of a "cattle-call" approach, Chick-fil–A introduced its spicy chicken sandwich with reservation based sampling to their most loyal consumers.
-Create a Bond: Originally sold out of the back of a car, smartwater leveraged its biggest fans and most influential consumers to spread a message that married its functional benefits (purifies the body) to its consumer's emotional needs (self-confidence). In just a few years it became the #1 premium water.
-Rekindle the Spark: For over a hundred years Coca-Cola has refreshed its romance with its consumers through the magic of storytelling ranging from "I'd like to buy the world a Coke" to "Where will happiness strike next?"
-Break Up: By abandoning moms in favor of teen males, Sprite doubled their sales volume in a few years and became the #1 brand among their new consumer group. Many brands—think Harley Davidson, Apple, or Disney—have successfully created and cultivated a deep emotional connection with their consumer base.
But how have they done it? And why does it matter today more than ever? Technology has provided new tools that aren't fully understandable or know how to use – primarily because they are being applied within the context of an outdated way of thinking. One must think about marketing brands in a completely different way to ultimately achieve success - a way that is fundamentally based upon the brand's relationship with the consumer. Halloran inspires marketers to explore new ways to connect with the consumer by creating and nurturing a genuine relationship—one that's as exciting and enduring as a great romance.
Romancing the Brand is the definitive guide to cultivating a lasting brand/consumer relationship.
ABOUT THE AUTHOR:
Tim Halloran is president of Brand Illumination. He has built, directed, and consulted with some of the world's largest brands, at top companies including Coca-Cola, Home Depot, Kraft Foods, Procter & Gamble, Delta Airlines, glacéau, the NBA, and Turner Broadcasting System. His successes include the national launch of Powerade, co-development of Dasani bottled water, and the development of Coke's first Internet marketing initiative. He was awarded Innovator of the Year by Coca-Cola and named Max Award Finalist for Innovation by Georgia State University. He has taught at Emory University and Mercer University, and he lives in Atlanta.