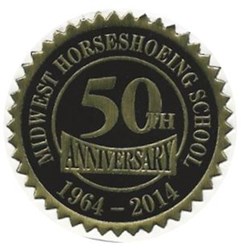 Divernon, IL (PRWEB) January 07, 2014
Midwest Horseshoeing School (MWHS), the Midwest's premier school for farriery and horseshoe instruction, is excited to introduce a new 20 week session to their 2014 course offering. The class is designed to take farrier education at MWHS to a new level and is focused on students achieving farrier certification.
For 46 very successful years Midwest offered only a twelve week course. In 2011, MWHS introduced its 16 week Certifier class. And now in 2014, in celebration of their 50th anniversary, they have developed a twenty week Advanced course designed to strategically and methodically prepare students for the day to day rigors of running their own farrier service or serving an apprenticeship under one of MWHS' highly qualified affiliate farriers from around the country.
The new class is designed to take farrier education at MWHS to a new level. The development of this class is the second of several steps that will ultimately lead to a year-long course offered to a limited group each year only at Midwest Horseshoeing School.
The advanced course covers topics such as:
-Horsemanship
-Hoof Trimming and Shoeing
-Forging
-Certification Preparation
The course also includes classroom lecture time and plenty of hands on experience.
Midwest Horseshoeing School has been a staple in the farrier industry for 50 years and is preparing to lead the way in farrier education as they set sail into the next 50 years. Over the last 5 years MWHS has built a solid instructor and management base and plans to build on that foundation in the near future as we explore additional opportunities that will offer our students much more practical experience that applies to today's farriers.
Midwest Horseshoeing School's next 20 week session begins July 7, 2014. For more information, visit: http://www.midwesthorseshoeingschool.com/
About
The Midwest Horseshoeing School was established in 1964 because of the demand for skilled, competent, well-educated horseshoers. Through the years Midwest Horseshoeing School has met the challenge of this growing trade by continually graduating seasoned professionals.
Midwest Horseshoeing School is located just 10 miles south of Springfield Illinois, in the rich prairie region of central Illinois...the heart of the Midwest. Through the years students have come to Midwest Horseshoeing School from all over the United States to learn the trade of horseshoeing.